The Community Development Block Grant Program Is Awful and Should Be Cut
HUD program a significant source of corruption and cronyism, and much less about helping the poor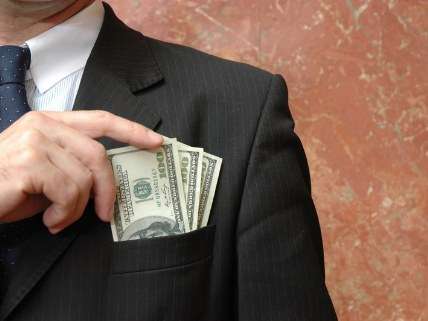 Yes, President Donald Trump's budget is awful for all the reasons Nick Gillespie explained earlier: This isn't a reduction in the size of government. It's a trick shifting money away from domestic spending to jack up military spending.
But a certain amount of "Oh no, we've chosen guns over butter!" outrage should inspire spit takes from people who pay attention to how federal spending actually plays out in the real world. In particular, a lot of media attention is focused on how Trump's budget proposal eliminates the federal Community Development Block Grant (CDBG) program. Here's how CNN anchor Jake Tapper described it in a Tweet (while linking to New York Times reporting):
On chopping block: $3 billion Community Development Block Grant program, which funds programs like Meals on Wheelshttps://t.co/oVNX4V0B2z

— Jake Tapper (@jaketapper) March 16, 2017
The big problem here is that "We help fund Meals on Wheels" is how the government sells the CDBG program, but how it actually operates in the cities and communities that get the money is far different. The CDBG program is chock full of cronyism and corruption and should be eliminated. Much like the corrupt city redevelopment agencies, what actually ends up happening is that this money gets funneled by politicians to friends with connections for various projects that aren't really about helping the poor at all.
Type "Community Development Block Grant corruption" into Google and the very first match is this critique of the program by the Reason Foundation from 2013. Victor Nava described the program as a breeding pit for "waste, fraud, and corruption." Nava's piece focuses on corrupt CDBG expenditures in Honolulu, Hawaii, and Pine Bluff, Arkansas. He notes:
[I]n June, HUD found that the City of Pine Bluff, Arkansas improperly spent nearly $200,000 in CDBG funds and failed to properly document an additional $279,000 in expenditures. The city is accused of spending more than 20% of CDBG funds on "administrative costs", purchasing properties without redeveloping them, disbursing funds to contractors before receiving bids, and not following federal project documentation guidelines.

Instances like this happen all too often when it comes to the CDBG program, as private interests jockey for every last bit of taxpayer money from the hands smarmy local politicians who are in charge of distributing it. Cuts to the CDBG program, while welcomed, won't end the cronyism and corruption inherent in the program. The best solution is to just eliminate the program. The latest cuts bring us halfway there, so now is the time to just go all the way and end the crony capitalism once and for all.
The money often is not going to Meals on Wheels or even to the neediest communities. As a Reason Foundation analysis also from 2013 shows, wealthier communities get the larger chunks of the money, particularly counties that—what a coincidence!—are in proximity to Washington, D.C.
Here's an example of how this grant money is actually used:
In 2011, Comstock Township, Michigan decided to grant Bell's Brewery $220,000 in CDBG funds to help pay for a two-year expansion project. This is an even more blatant crony capitalist use of community development subsidies. The brewery benefits from the government subsidies at taxpayers' expense, but it also benefits from a financial advantage over competing breweries—such as the Arcadia Brewing Company one town over in Battle Creek and even alternative products such as liquor made by Big Cedar Distilling Inc. down the road in Sturgis, neither of which are receiving any block grant money. Other small craft breweries may struggle to compete with a brewery like Bell's when the government is subsidizing its expansion.
Tad DeHaven has a list of some of the projects that have snagged CDBG funds instead of things that actually help the poor:
$588,000 for a marina in Alexandria, Lousiana
$245,000 for the expansion of an art museum in Allentown, Pennsylvania
$147,000 for a canopy walk at the Atlanta Botanical Gardens in Georgia
$196,000 for expanding the Calvin Coolidge State historic site in Vermont
$294,000 for a community recreational facility in New Haven, Connecticut
$196,000 for the construction of an auditorium in Casper, Wyoming
$441,000 to replace a county exposition center in Umatilla, Oregon
$98,000 for the Pearl Fincher Museum of Fine Arts in Spring, Texas
$245,000 for renovations to awnings at a historical market in Roanoke, Virginia
$294,000 for the development of an educational program at the Houston Zoo in Texas
DeHaven also noted how a good chunk of the funds of the program get siphoned out due to administrative costs. A good quarter of the funding goes to the various multi-level government bureaucracies to actually operate the grant process. One of the biggest beneficiaries of the CDBG program are the people who operate the program.
As a small-town newspaper editor I witnessed this reality play out in the real world years ago in the California desert. In the rural community of Barstow, due to the administrative challenges of landing the grants, in the end, the local homeless shelter received somewhere around $2,000 from this program, a pittance that accomplished little. The rest ended up going to the city itself, who used the funds to repave the parking lots for local parks.
Check out this audit from Riverside County, California, for their CDBG expenditures for 2016, and there's neither a meal nor a wheel to be found. Of the $761,744 the county received, nearly all of it went to improve a playground and the sidewalks of a single local elementary school. And note that the reason they were audited by Housing and Urban Development was because they hadn't provided proper documentation of their expenses.
It's truly a shame that Trump's suggestion to cut the program entirely isn't tied to a commitment to push that revenue back to the states to handle. The budget proposal says that these community activities should be handled by states and local governments, which is true, but given that Trump isn't actually cutting the budget at all and merely shifting spending around, they're not getting the funds to do so. That means even the parts of the program that aren't corrupt get hosed because the states won't be getting to keep that revenue to deploy to help the poor.