Chinese Premier Says China Doesn't Want a Trade War—But That U.S. Firms Would Bear the Brunt
Everybody loses in trade wars, especially workers, consumers, and entrepreneurs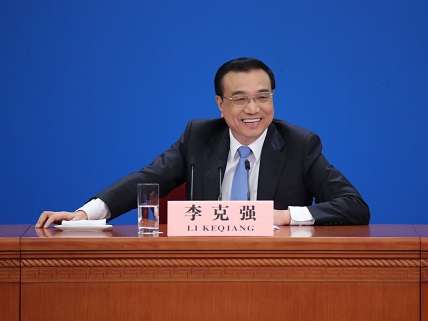 At his annual press conference, China Premier Li Keqiang warned that in a trade war between the U.S. and China, "it would be the foreign-invested companies in China, particularly US firms that would bear the brunt of it," citing an unnamed international think tank. "We don't want to see a trade war," Li continued. "A trade war won't make our trade fairer. It will only hurt both sides. I understand the whole world is paying close attention to China-US relations. China hopes that no matter what bumps this relationship may run into, it will continue to move forward in a positive direction."
The press conference, at the fifth session of the 12th annual National People's Congress, featured pre-selected questions and well-rehearsed answers, as the Los Angeles Times reported. Li and President Xi Jinping have been trying to position China as a champion of trade and globalization in the Trump era, and Li answered his first question, from CNN about U.S.-China relations in the Trump era, saying he was hopeful. He referred to comments he made in October, when the presidential election was "white-hot," as he described it, that "in spite of twists and turns," U.S.-China relations have been "going forward" over the last decades. Li welcomed Trump's reaffirmation of the One China policy, which Li argued "forms the political foundation" of relations between the two countries, and said given that, "China-U.S. cooperation enjoys bright prospects."
"We feel optimistic about the future of China-US relations on the strength of the extensive common interests that have bound the two countries together in the course of several decades of our diplomatic relations," Li said. "It is true that there are some differences between the two countries over issues like jobs, exchange rate and security. What's important for both countries is to stay focused on the overall interests, and enhance dialogue and communication to deepen mutual understanding."
"Both our peoples are great people," Li said, channeling his inner Trump, "and we believe that we have the wisdom to properly manage differences." Li noted that focus on the trade surplus was misguided, saying he spoke with someone from a foreign trade company that told him "90 percent" of his company's profit "goes to U.S. firms."
"Statistics show that last year, trade and mutual investment between the two countries created up to one million jobs in the United States," Li claimed. "We may have different statistical methods, but I believe whatever differences we may have, we can always sit down and talk about them, and work together to find solutions." Li suggested that by continuing to work on common interests, "the differences will account for a lesser and lesser proportion in overall China-US relations." Presidents Xi and Trump are set to meet next month at Mar-a-Lago.
Globalization and free trade have benefited the entire world—trade has increased 30 fold since 1950, while the population has only tripled. Research has shown globalization has helped speed economic growth, increase life spans, and even reduce child labor. The Trump administration may represent the first time since the end of World War II that the American president has not been some kind of champion of free trade and globalization, despite particular ideological or other political flaws. The world is also a lot more prosperous than it's ever been, and from Latin America to Asia, a wide array of governments have come to understand the benefit of liberalization and free trade policies for their countries, even if the rhetoric doesn't always match.
President Trump's hostility to free trade need not be a mortal blow to the trend toward free trade and the freeing of markets the last half century has seen. And tariffs, the tool Trump most often points to for a putative trade war with China, will mostly punish American consumers, workers, and entrepreneurs (and especially the poor!).
Tariffs are a bit like Philadelphia's experiment with the soda tax (or "tax recovery.") They mayor insists the tax is on beverage companies and that they should pay the tax. But companies can't absorb the entire cost of the tax—despite the mayor's insistence that soda companies are greedy, as most companies they are highly competitive and prices reflect that competition for consumers—so the cost is passed on to the consumers. The mayor may insist that's not what he had in mind, but it's basic economics. So it is with tariffs, the costs of which will mostly be passed on to the consumer. The concomitant reduction of competition from foreign goods, meanwhile, could also raise prices of domestic goods. Trade happens between willing buyers and willing sellers—government's role, if any, ought to be to ensure that this is able to happen, and certainly not to interfere with and distort the process.
China's pro-trade rhetoric, of course, isn't always matched by its actions. If China truly wants to become a champion of the forces of free trade and globalization that have lifted so many people out of poverty, they should recommit and speed up the privatization of Chinese industries—undoubtedly many of the concerns about China's trade position come from the state's dominant role in Chinese companies of all kinds. Privatization would improve performance, stimulating economic growth and even opening up the possibility of political reforms. After President Trump withdrew the U.S. from the Trans-Pacific Partnership, a trade deal between a dozen countries adjacent to the Pacific, but excluding China, the China-backed Regional Comprehensive Economic Partnership, a proposed trade deal including Asian-Pacific countries but not American-Pacific ones took on new importance. Trade deals should be used to liberalize and simplify trade among countries open to free trade, and not as tools to export domestic policies, like labor and environmental, or to contain other countries making a good-faith effort to participate in free and open trade.