Another Taxpayer-Funded Cleantech Company Goes Bankrupt
Aquion Energy files for Chapter 11. Will Tesla's Gigafactory be next?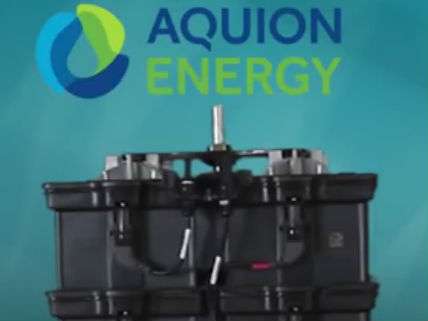 Named the 2016 North American Company of the Year by the San Francisco-based Global Cleantech Group just seven weeks ago, Pennsylvania battery maker Aquion Energy filed for Chapter 11 bankruptcy last week. The company makes a novel sodium-ion battery. Aquion joins the long list of failed cleantech companies that were backed by government grants and loans.
Most notoriously solar-cell manufacturer Solyndra went belly up in 2011 after receiving more than $500 million in federal loan guarantees from the U.S. Department of Energy. Back in 2010, I visited the vast Ener1 lithium-ion battery factory outside of Indianapolis. As I reported, the Department of Energy had awarded a $118.5 million matching grant to Ener1 to build the plant. In addition, Ener1 was given a state incentive package of $21.3 million and a Hancock County package valued at $48.6 million. In January, 2011 then-Vice President Joe Biden visited the Ener1 plant where he declared: "It's not the government doing this. It's the free-enterprise system. We're providing seed money, one-time deposit, man, so we can spur additional investment." A year after his visit Ener1 declared bankruptcy and later emerged a privately owned company. Similaly DOE-backed Beacon Power and A123 Systems also went bankrupt.
The Pittsburgh Post-Gazette reports that Aquion Energy had received a $5.2 million grant from the U.S. Department of Energy, plus $8.6 million in grants and another $8 million in loans from Pennsylvania's Department of Community and Economic Development (DCED). In return, Aquion promised the state it would create 341 new jobs on top of the 70 people it already employed. The company has evidently now laid off 80 percent of its 150 employees. The DCED is vowing to get the money it handed out to Aquion back. "Revenue recovered by DCED from companies that fail to live up to previous commitments will be reinvested to further promote economic growth in the Commonwealth," declared DCED communications director David Misner. (Here's an idea: How about just returning it to Pennsylvania's taxpayers?)
Government "investment" in novel battery manufacturers has so far failed. The outcome of the biggest investment of all is now pending: Tesla's Gigafactory outside of Reno, Nevada. In order to persuade Tesla to build the factory in Nevada, the state government has given the company a package of tax breaks worth $1.3 billion including tax credits worth $195 million which Tesla could sell for cash. Naturally, Tesla CEO Elon Musk defends his company's reliance on government largesse. Perhaps the Tesla battery plant gamble will pay off, but the precedents are not promising. One other plea: All states should agree to level the competitive playing field by collectively refusing to hand out tax breaks to rent-seeking companies.