Mississippi Finally Brings Some Transparency to Asset Forfeiture
Mississippi didn't track how much stuff police seized or how they spent the proceeds. Now it will do at least one of those.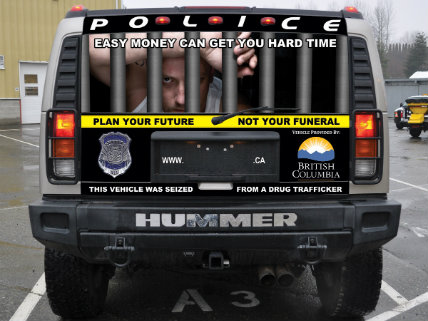 Facing growing bipartisan scrutiny over its unchecked civil asset forfeiture program, Mississippi will now require police to report how much property they seize from citizens under a bill signed into law by Gov. Phil Bryant Monday.
Under the new law, the Mississippi Bureau of Narcotics will maintain a website showing descriptions and values of seized property, which police department seized it, and any court petitions challenging the seizures. The law will also require police to obtain a seizure warrant within 72 hours.
Using asset forfeiture, police can seize cash, cars, and even houses if they suspect the property is connected to a crime. The owner does not have to be convicted, or in some cases even charged, with a crime to have his or her property forfeited by the state. For example, a Washington Post investigation found that since 9/11, Mississippi police conducted nearly 400 cash seizures "without search warrants or indictments."
Stories like that have led to growing momentum in statehouses across the U.S. to curtail police power to seize property through civil asset forfeiture, and Mississippi is now the 18th state, along with the District of Columbia, to pass some type of reform. New Mexico, North Carolina and Nebraska have barred police entirely from forfeiting property without a criminal conviction.
While police say asset forfeiture is a vital tool to disrupt drug traffickers and other organized crime, civil liberties groups from across the political spectrum say the practice lacks due process protections for innocent property owners and creates perverse profit incentives that lead police to target everyday people just as often, if not more, than cartel members.
As Reason reported in January, the Magnolia State was one of the worst in the country when it came to asset forfeiture transparency. It neither reported nor even tracked how much state and local law enforcement seized from people, or how police spent those funds. The Institute for Justice, a libertarian-leaning public interest law firm, gave the state an "F" grade in a report on forfeiture transparency earlier this year.
Documents and court orders obtained by Reason showed that, while the state raked in hundreds of thousands of dollars from large seizures, there were numerous cases of petty and bizarre seizures, such as one case where police seized a woman's furniture.
From January's investigation:
In total, the Mississippi Bureau of Narcotics, working with local police departments, seized nearly $4 million in cash in 2015. Out of 154 seizures in 2015, the average cash value amounted to $66,733, and the median was $12,914. They seized cash amounts as low as $75 and as a high as $460,000. They seized trucks, cars, ATVs, riding lawnmowers, utility trailers, and 18-wheelers; an arsenal of assorted handguns, shotguns, and rifles; cell phones, cameras, laptops, tablets, turntables, and flatscreen TVs; boat motors, weed eaters, and power drills; and one comic book collection […]

"We're completely in the dark on how pervasive the practice really is," says Blake Feldman, an advocacy coordinator at the Mississippi ACLU. "Pretty much the default mindset is nobody should be overseeing any law enforcement. A big concern will be if the required tracking and reporting is going to be enforced, or if it will be a shallow gesture."
The new law will withhold grant funding from police departments that fail to comply with the reporting requirements. While this is undoubtedly an improvement over the previous asset forfeiture regime, it won't require police departments to report how they spend asset forfeiture funds—a development Institute for Justice research analyst Jennifer McDonald called "particularly troubling."
"With forfeiture, law enforcement agencies can keep some or all of the proceeds from the property they take," McDonald said in a statement. "This enables them to generate and spend funds outside the normal appropriations process, which undermines the legislature's power of the purse. At a bare minimum, agencies should have to publicly report how they spend forfeiture proceeds."
What does that lack of spending transparency look like in action? An investigation by Chicago Reader last year found the Chicago Police Department raked in $72 million since 2009 in civil forfeiture revenues, using it as an off-the-books revenue stream to fund surveillance activities for its narcotics unit.
And down in Mississippi, the tiny town of Richland paid for a $4.1 million police station and a new fleet of Dodge Charger police cruisers using asset forfeiture funds. A sign outside the station says the building was "tearfully donated by drug dealers."
"We would have liked to have seen the legislature pass substantive reforms to restore due process to asset forfeiture, but tracking and reporting the numbers is a big first step," Feldman says. "Mississippi often avoids issues by failing to collect the data. Not tracking expenditures is unfortunate, but unsurprising. In Mississippi, law enforcement regularly repeats phrases like 'community policing,' but evading spending oversight is antithetical to democratic policing. At a legislative hearing on asset forfeiture last summer, one sheriff testified that the legislature 'doesn't know what [his department] needs.' He said he was in the process of purchasing a drone with forfeited funds. It's terribly concerning that a government institution as resistant to accountability as law enforcement is allowed to acquire surveillance technology unilaterally.
Well, we may not know what else the Richland Police Department spends its forfeiture revenue on, but we'll soon find out who's paying for its new toys.