Female Drake U. Student Initiates Sex with Incapacitated Male, Lies About Key Details. Guess Who Got Expelled?
University wouldn't let male fraternity brother file a Title IX complaint against his accuser, because of "retaliation."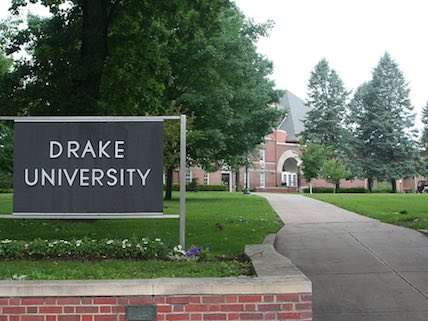 There are fundamental deprivations of justice, and then there's what happened to a male student at Drake University. The student, "John Doe," was expelled for sexual misconduct—ostensibly because he engaged in nonconsensual sex with a female student, "Jane Doe."
In truth, John was punished for failing to realize quickly enough that he was actually the victim in the encounter. Drake officials still refuse to fix their mistakes.
During the course of Drake's sexual misconduct investigation, administrators uncovered several pieces of evidence that made John's claim to victim status arguably stronger than Jane's: Jane had initiated the encounter, by her own admission, and wasn't nearly as intoxicated as John. (It's also possible that she initiated at least one other nonconsensual sexual encounter later that night.)
But Drake refused to act upon this new information, even when John's father—a trustee at Drake—explicitly requested an investigation into Jane's misconduct toward John. Such a request would constitute retaliation against Jane for coming forward in the first place, according to university officials, and was thus illegal under Title IX, the federal law interpreted by the Education Department to require the kinds of kangaroo courts now in use at campuses across the country.
That's all according to John's lawsuit against Drake. His father, Tom Rossley, is also suing the university. Rossley was dismissed from the Board of Trustees after attempting to draw attention to his son's plight. His suit alleges that Drake's board improperly fired him. (Read more about the details of that suit here, courtesy of The College Fix.)
A key aspect of both suits is John's disability status: he is described as having a learning disability, and was prescribed two drugs to help him concentrate on homework. He was under the influence of both drugs—and tremendous amounts of alcohol—during the encounter with Jane.
The suit alleges that in failing to make accommodations for John during the Title IX process, Drake violated the Americans with Disabilities Act. That's an interesting claim, but other details of the lawsuit paint Drake officials as so hostile to John's plain-old due process rights that the ADA aspect seems almost secondary.
On the night in question—October 8, 2015—John and Jane met up well after midnight, at Drake's Bakery. Both had been at house parties. John had already consumed a huge amount of beer, multiple shots of whiskey, and Red Bull, according to the lawsuit.
Jane allegedly told university officials that she was also intoxicated, although subsequent investigation suggests she exaggerated her level of drunkenness. She claimed that she tripped on the sidewalk, stumbled over, and fell, though a witness refuted this. She also claimed a bartender served her a drink in between the house party and meeting up with John. But the bartender said that never happened.
"Upon information and belief, this testimony by Jane Doe was made in an effort to appear more incapacitated than she was that evening," according to John's lawsuit.
John and Jane began flirting—Jane "was all over me and was biting my ear," according to John—and decided to leave together. In the backseat of the car taking them home, they began making out. Jane—not John, but Jane—instructed the driver to take them both back to John's fraternity house.
When they arrived at the house, it was so crowded that they ended up heading to John's car to be alone. It was there that Jane initiated oral sex. Notably, John passed in and out of consciousness as it was happening:
As he testified, John Doe was so intoxicated that he only remembered bits and pieces of the oral sex; he stated he was blacked out for large portions of their time in the parked car, and he did not remember giving consent for the oral sex performed on him by Jane Doe. In fact, John Doe did not remember the oral sex performed on him in the parked car until he returned to the car the next morning looking for his debit card which he discovered had fallen out of his pocket.

In the eventual hearing, Jane Doe admitted to initiating the oral sex on John Doe without his consent. Further, she defined "consent" to be when she initiated the sexual activity. She also stated during the hearing that she felt she was "just giving him what [she thought] he wanted."
(Emphasis mine.)
This encounter soon came to an end—John was too incapacitated to maintain an erection—and the pair ventured into the house. At this point, their accounts are hazy, confused, and contradictory. John remembered passing out in his bed and Jane telling him she was leaving. Jane remembered collapsing into a bean bag chair and waking up to discover John on top of her, wearing a condom. Her pants were pulled down. She claimed she told him to stop, he did, and she left. (Whether this actually happened is in serious dispute.)
But Jane did not go straight home. She went to another fraternity house, uninvited, and climbed into bed with an unsuspecting person. She "jumped on top of him," and he told her to leave, according to the lawsuit.
She then headed to a different bedroom, removed her shirt, and initiated oral sex on a third person. She spent the night there, and went home in the morning:
John Doe sent Jane Doe a text at 3:00 a.m. to ask if she got home safely, and she responded in the affirmative and added "all good, babe." In fact, she did not go home but was instead at the annex of the fraternity house across the street engaged in sexual activity with a fraternity member.
Who Jane sleeps with is her own business, of course. But these two other encounters are relevant, given that they establish a pattern of behavior. It certainly seems like Jane has a penchant for initiating sexual contact under circumstances that a Title IX officer might label nonconsensual.
The very next day, after piecing together the events of the previous night, Jane and a friend went to the public safety office to report John for sexual assault. She also went to the hospital to obtain a sexual assault examination, but left before any of the tests could be performed. Jane later stated that she doubted herself, asking questions like, "What am I doing?" and "What if I did consent?"
The Title IX investigation included all the familiar, horrifyingly unfair elements typical of these cases. Two officials, Mary Howell Sirna and Tricia McKinney, were tasked with handling the investigation. They decided which witnesses to interview, and—according to John—failed to interview people whose testimony would have helped John.
At the actual hearing, an administrator "did not allow testimony from anyone who was with Jane Doe after she left John Doe's room on the night of the alleged incident," even though these individuals could have testified to Jane's lack of alcohol-induced incapacity.
The evidence presented by the investigators to the hearing panel consisted solely of investigators' recollections of their conversations with witnesses—no transcripts, audio, or video tapes. This proved to be a problem. John, for instance, claims he told the investigator that he woke up in the morning fully clothed and with his shoes on (casting doubt on Jane's assertions about having sex in the bean bag chair). But this detail did not appear in the report that was presented to the hearing panel. Investigator Sirna reportedly said she couldn't recall John making such a claim during their interview. Because the interview was not recorded or transcribed, there was no way to tell who was right.
Incredibly, John's state of incapacitation was held against him. "Given that… respondent claims not to recall the event, we then must turn to the evidence provided by the Complainant," wrote the investigators.
The university also took Jane's side in other ways. When officials learned that John was bringing a lawyer to the hearing, they strongly advised Jane to do so as well. Acting Dean of Students Jerry Parker personally arranged for Jane to have a lawyer, forwarded all relevant legal documents to this lawyer, and even offered to talk to the lawyer on background about Jane's case. He did all of this, despite maintaining that the university was a neutral arbiter in the matter of Jane vs. John.
But the most novel aspect of this case is the retaliation claim. Throughout the process, John became aware of the fact that he could not have consented to sex with Jane, and was therefore a victim of sexual assault. He pressed administrators to investigate this claim. They steadfastly refused to do so, on the grounds that John was retaliating against Jane.
Consider the logic of such a verdict. It suggests that in any sexual misconduct dispute, the first person to make a formal accusation has a tremendous advantage. The first accuser gains the advantage of retaliation, which prohibits university officials from properly vetting the second accuser's claims, according to Drake officials.
Despite Jane's numerous factual misstatements, and her testimony that she had initiated nonconsensual oral sex with John, John was expelled. His suit against Drake alleges breach of contract, negligent infliction of emotional stress, and discrimination on the basis of sex. His lawyer is Andrew Miltenberg, who also represents Grant Neal—the Colorado State University-Pueblo student expelled for sexual assault even though his girlfriend said, "I'm fine and I wasn't raped"—and several other college students who were mistreated by the Title IX process.
One final note: Everything that the feminist-left claims universities do to re-traumatize sexual assault victims—blaming them, disbelieving them, failing to act on their claims—happened at Drake, but it happened to a male fraternity member. Why is that okay?