Reason Nominated for 13 Western Publishing Association 'Maggie' Awards
Record-breaking nominations haul includes for Best Magazine, Best Website, Best Weblog, and more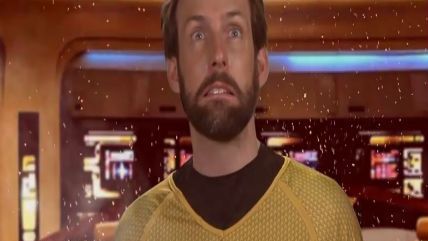 I am tickled to share the news that Reason in all its journalism-producing subdivisions has been nominated for 13 awards for its 2016 coverage by the Western Publishing Association, which assesses magazines and weekly newspapers and websites headquartered west of the Rocky Mountains. The lucky number of noms tops the previous Reason record for work in 2012 and 2013, and more than doubles up on last year's six (which led to a Best Feature Article award for Elizabeth Nolan Brown). More importantly, we squashed Mother Jones and its five nominations this year like a bug.
And the nominees are:
* Best Magazine, Special Interest/Consumer. For the May 2016 issue (pictured). The competition here is Mother Jones, Boys' Life, Off-Grid, and Jewish in Seattle.
* Best Web Publication. The other nominees are The Advocate, Via, Aspen Sojourner, Study in the USA, and VegNews.
* Best Publication Blog. Other contenders are Meetings Today and Study in the USA.
* Best Feature Article. Shikha Dalmia, for "Muslim in America: A trip to two of the most Islamic cities in the U.S."
* Best Signed Editorial or Essay. Matt Welch, for "Trump Is Not the Peace Candidate: Don't be fooled by the false prophet of anti-interventionism."
* Best Regularly Featured Department, Section or Column. Veronique de Rugy, for "Beyond Permissionless Innovation: Exciting things happen outside the reach of regulators," and "Marco Rubio's Sweet Protectionism: The 2016 hopeful gives the feds cover to keep propping up Big Sugar."
* Best News Story. Jim Epstein, for "Minimum Wage vs. the Carwasheros: New York's new $15 wage floor pits man against machine."
* Best Single Editorial Illustration. Jason Keisling, for "Should the U.S. Government Build a Death Star?"
* Best Regularly Featured Web or eNewsletter Column. Brendan O'Neill, for "America Called Bullshit on the Cult of Clinton: The one good thing about Trump's win? It shows a willingness among Americans to blaspheme against saints and reject the religion of hollow progressiveness," and "Elitist Rage With the Pro-Brexit Masses Echoes Longstanding British Suspicion of Democracy: Reptiles, insects, shit flowing from the busted sewer of bad ideas—this is how the media elite views the minds and actions of Brexit voters."
* Best Web or eNewsletter Article. C.J. Ciaramella, for "Why Are Detroit Cops Killing So Many Dogs? A Reason investigation reveals widespread, unchecked violence against pets during drug raids—including two officers who have shot more than 100."
* Best Use of Video in Editorial Short Form. Austin Bragg, Meredith Bragg, and Andrew Heaton, for "Star Trek: The Libertarian Edition":
and Austin Bragg and Meredith Bragg, for "#DrunkenSocialism vs. The State: How Virginia is Screwing over Bars, Customers, and Common Sense":
Best Use of Video in Editorial Long Form. (Updated.) Justin Monticello, Alex Manning and Zach Weissmueller, for "This LA Musician Built $1,200 Tiny Houses for the Homeless. Then the City Seized Them."
Winners will be announced April 28.
None of this journalism, nor recognition of its quality, would be possible without your generous support of the Reason Foundation, the 501(c)3 nonprofit that publishes all of our journalism. So thank you! You can donate more at this link, or simply subscribe to the magazine!