Two Women Challenge Tennessee's Horse Massage Licensing Law in Court
Laurie Wheeler and Martha Stowe were threatened with fines and jail time if they didn't get an expensive, unnecessary license.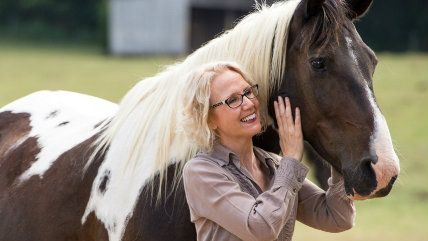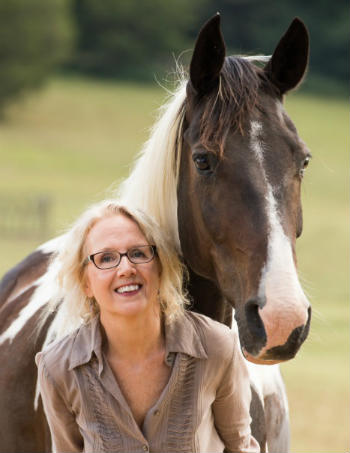 A Tennessee licensing board that can't tell the difference between animal massage therapy and veterinary medicine will have to defend itself in court.
A few weeks ago, I wrote about Laurie Wheeler, who was threatened with fines and even jail time if she continued to practice horse massage therapy without obtaining an expensive veterinary license from the state. Wheeler has been studying horse massage since 2010, she's twice been certified in equine massage by an Indiana-based animal therapy school, and, in 2016, successfully obtained a license from the state of Tennessee, where she lives, to practice massage therapy on humans too.
She intended to offer her services to equestrians and their steeds, but those plans were delayed when she received a cease-and-desist letter from the Tennessee State Board of Veterinary Medicine. After months of back-and-forth with the board (she was told she couldn't even offer horse massage for free, and that she couldn't petition the board to change its rules), Wheeler filed a lawsuit on Thursday challenging what she says is a violation of the constitutionally protected right to earn a living.
"This regulation clearly runs afoul of that right," said Braden Boucek, the director of litigation for the Nashville-based Beacon Center, a free market think tank that filed the lawsuit on behalf of Wheeler and Martha Stowe, another woman who has been told by the state Board of Veterinary Medical Examiners that she can't practice horse massages.
"The Vet Board is now requiring a license to rub a horse. It is time we stop criminalizing compassion," says Boucek. "What's next, a license to pet your dog or feed your cat?"
Wheeler said she was "disappointed and disheartened" by the board's decision to stand-by its regulations after she and the Beacon Center presented showing that the rule was unconstitutional and unnecessary.
The board did not return requests for comment Thursday.
Forcing Wheeler and Stowe to get veterinary licenses would require years of expensive schooling—because you can't get a veterinary license in Tennessee without graduating from an accredited veterinary school—and would not improve either woman's knowledge of massage since most veterinary schools don't teach the practice.
While giving a massage to a horse in Tennessee requires a veterinary license, a resident of the state can castrate a horse or artificially inseminate a horse without being licensed—even though both of those activities would seem to have more in common with a vet's medical training than anything Wheeler was doing. It's also worth noting that exactly zero states require masseuses to be licensed as physicians before giving massages to humans. Such a requirement would make little sense, of course, and the same logic should apply here.
Arizona's State Veterinary Medical Examining Board agreed last month to drop a similar licensing requirement. In an agreement signed last week by Judge David Udall, the board said it would no longer require animal massage practitioners, who provide therapeutic services to dogs, horses, and other animals, to obtain a veterinary license.