Chance the Rapper Million Dollar Chicago Public Schools Donation Going to Specific Schools
Chicago Public Schools looking for more money from state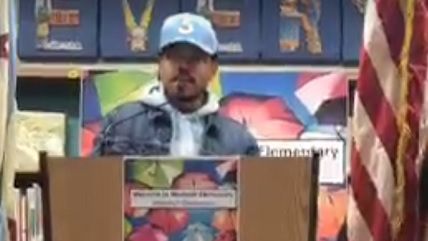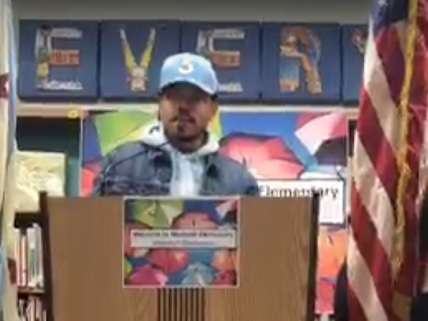 The ongoing debate over funding for the Chicago Public Schools has yielded a million dollar donation from Chance the Rapper—and the details of the grant illustrate CPS's underlying budgetary problem.
The million dollar grant was given to the Children's First Fund, and specifically targets south and west side elementary schools without art, music or language classes. It won't go to the general operating budget, which is in crisis in large part due to a pension system long managed as a slush fund.
Chance announced his donation yesterday, saying it was going to "support arts and enrichment programming" at Chicago public schools. The donation came after the rapper met with Gov. Bruce Rauner (R), who he criticized on Twitter for not properly funding Chicago schools. The governor, legislature, and local officials are clashing over funding formulas, pension reform, and how much of the pension shortfall the state should pay for.
Mayor Rahm Emanuel has rejected proposals by the governor for Chicago to cover more of the pension oblgiations. "His plan to fix the fact that Chicago taxpayers pay twice for teacher pensions is to have them pay three times instead," a spokesperson said, according to the Chicago Tribune. "It's past time for the governor to step up, as Chicago's taxpayers already have, and end the state's separate and unequal funding for Chicago students."
As the Illinois Policy Institute explained in a 2015 review, over the last 20 years "Illinois and Chicago taxpayers contributed more than enough money to pay for both, had those funds been properly managed." Instead, the money was mismanaged through "pension pickups" (where the school district covers teacher's portions of their pension contributions) and "pension holidays (where pension fund contributions were used for other expenses instead), squandering state education funding that's grown at 150 percent of the rate of inflation, using pension money to grow payroll, creating new pension obligations, and creating a situation where the number of beneficiaries is growing but the number of contributors is shrinking.
"Governor Rauner can use his executive power to give Chicago's children the resources they need to fulfill their God-given right to learn," Chance said at his press conference. The Chicago school district's and teachers union's attempts to conflate money spent on pensions to money spent on children complicate the political debate while obfuscating the spending agendas, and ought to be resisted. When a $215 million stop-gap budget measure failed to pass last month, the Chicago Public Schools froze $46 million in discretionary funds the district said it needed to make a required pension payment in June.
Governor Rauner's office pointed out his family foundation gave $7 million in donations over the years. "While the Rauners are passionate donors to our schools, individual contributions will never be enough to address the financial challenges facing CPS," a Rauner spokesperson said, according to the Chicago Tribune. "It would be helpful if CPS officials came to Springfield and joined in serious, good-faith discussions about the long-term stability of all of our schools." Rauner's office has also signaled it now wanted pension reforms dealt with separately from the broader budget deal, suggesting more spending without reform down the line.
Chance the Rapper's non-profit, Social Works, is matching every $100,000 donation with $10,000 to a specific local school, beginning with his own.