A.M. Links: Jeff Sessions Questioned Over Russia Contacts, 7 Baltimore Cops Indicted on Federal Racketeering Charges, Sweden Reinstates Military Conscription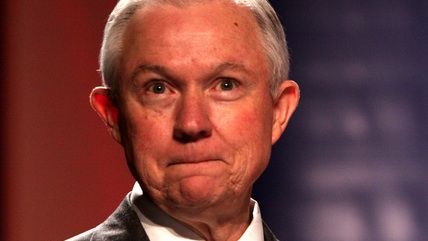 Gage Skidmore

"Then-Sen. Jeff Sessions (R-Ala.) spoke twice last year with Russia's ambassador to the United States, Justice Department officials said, encounters he did not disclose when asked about possible contacts between members of President Trump's campaign and representatives of Moscow during Sessions's confirmation hearing to become attorney general."

House Minority Leader Nancy Pelosi is calling on Jeff Sessions to resign over his Russia contacts: "Jeff Sessions lied under oath during his confirmation hearing before the Senate. Under penalty of perjury, he told the Senate Judiciary Committee, 'I have been called a surrogate at a time or two in that campaign and I did not have communications with the Russians.' We now know that statement is false."
Seven Baltimore police officers have been indicted on federal racketeering charges.
The Trump administration is reportedly exploring the use of military force against North Korea.
Sweden is reinstating military conscription.
Follow us on Facebook and Twitter, and don't forget to sign up for Reason's daily updates for more content.