Pentagon Considering 'Boots on the Ground' to Fight ISIS in Syria
President Trump has promised both non-interventionism and "safe zones" in Syria. He can't have both.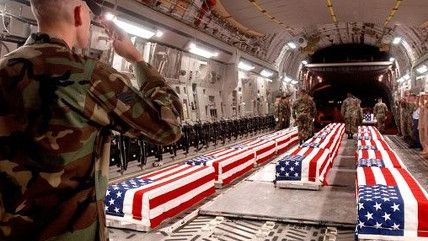 (Dover Air Force Base/Wikimedia Commons)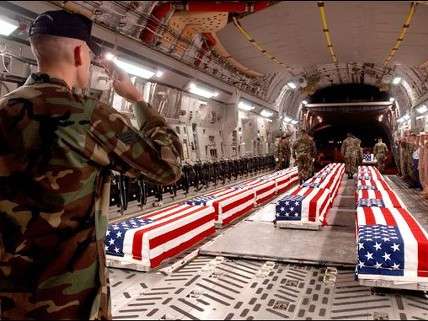 The Defense Department will not rule out putting additional U.S. troops on the ground in war-torn Syria when it presents President Trump with a range of options to fight ISIS next week.
At Washington D.C.'s Brookings Institution yesterday, Chairman of the Joint Chiefs of Staff Gen. Joseph Dunford said, "We've been given a task to go to the president with options to accelerate the defeat of ISIS specifically, but obviously other violent extremist groups as well," according to McClatchyDC. Dunford added, "We're going to go to him with a full range of options from which he can chose."
As a candidate, Trump said he would "bomb the shit out of ISIS," but also criticized his opponent Hillary Clinton's predilection for military interventionism. To date, the president has maintained a confounding duality when it comes to the use of military force, one that remains muddled by his call for "safe zones" in Syria to help stanch the flow of refugees, but which will ultimately require a military presence on the ground to enforce. Moreover, such a presence could find itself in conflict not only with ISIS and other radical Islamist groups, but also Syrian and Russian military forces.
About 500 U.S. special forces troops are already operating inside Syria (a holdover from the Obama administration and the representation of a broken promise by President Obama). Military action in the form of airstrikes against ISIS polled well among Americans last year (about 72 percent), but putting U.S. ground troops in Syria fared far worse—with only about 42 percent in favor.
Secretary of Defense James Mattis was non-committal last week when asked if he would recommend ground troops in Syria to President Trump, but in 2014 he publicly took issue with Obama's ISIS strategy. Business Insider quotes Mattis as saying:
Whichever strategy is chosen, we should be reticent in telling our adversaries in advance any timeline that governs us or which of our capabilities we will not employ. Specifically, if this threat to our nation is determined to be as significant as I believe it is, we may not wish to reassure our enemies in advance that they will not see American 'boots on the ground': if a brigade of our paratroopers or a battalion landing team of our Marines could strengthen our allies at a key juncture and create havoc/humiliation for our adversaries, then we should do what is necessary with our forces that exist for that very purpose. The U.S. military is not war weary, our military draws strength from confronting our enemies when clear policy objectives are set and we are fully resourced for the fight.
Mattis has frequently been described as one of Trump's more "sane" cabinet members and, as a retired Marine general, is intimately familiar with the horrors of war. That said, he's an Iran hawk who thinks there are "an increasing number of areas where we're going to have to confront Russia."
"Mad Dog" Mattis may very well be the right person to remind President Trump that soldiers are not toys and "safe zones" need to be made safe by the threat of deadly force. But if Trump is presented with a range of options that include a robust U.S. military presence in one of the world's worst war zones, don't bet against the "non-interventionist" president rejecting the use of what Hillary Clinton used to call "smart power."