How Trump Affects the Presidential Rankings
Eisenhower and Jackson now perceived differently. What's going on?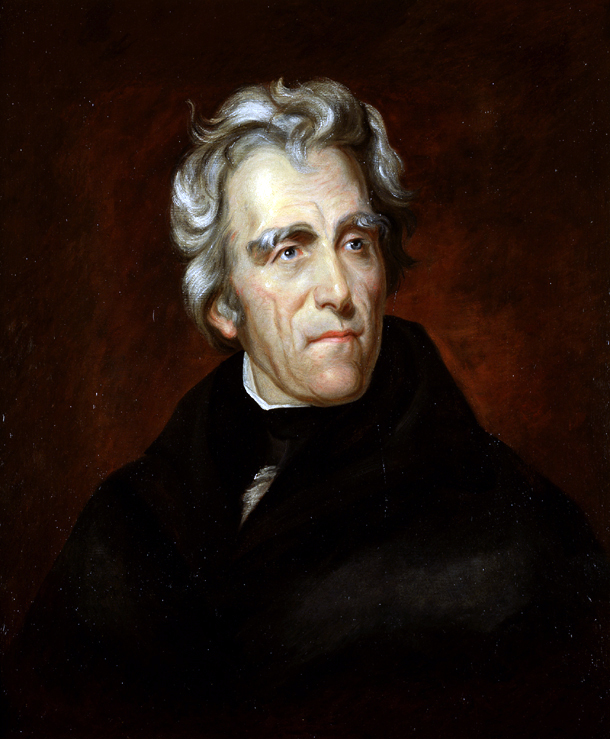 Any president can change the future. Donald Trump stands out for his ability to change the past, without even trying.
He's already altered perceptions of what happened in America decades and centuries ago. We know that because of a new survey of presidential historians conducted by C-SPAN, asking them to rank presidents on various attributes and overall performance.
The latest scorecard, which included responses from 91 historians, is similar in most respects to those compiled in C-SPAN's first two, in 2000 and 2009. But it holds some surprises that suggest that things look different with Trump in the picture.
Some things are fixed. The greatest president is Abraham Lincoln, who has finished first in each poll. Coming in second, for the second straight time, is George Washington. Franklin Roosevelt is third, just ahead of cousin Theodore.
The worst, three times running, is James Buchanan, who preceded Lincoln and whose indulgence of pro-slavery forces is blamed for helping to bring on the Civil War. Second-to-last each time has been Andrew Johnson, who succeeded Lincoln and was the first president to be impeached (though he was not convicted).
This is the first poll to include Barack Obama, who came out ahead of his most recent predecessors. Obama is ranked No. 12, three spots below Ronald Reagan but ahead of George W. Bush (33), Bill Clinton (15) and George H.W. Bush (20).
Obama is one of the lowest-rated presidents in terms of relations with Congress—worse, somehow, than William Henry Harrison, who died a month after taking office—and got mediocre marks on foreign relations, but he scored high on pursuing equal justice for all.
The biggest improvement was registered by Dwight Eisenhower, ranked ninth in 2000 and eighth in 2009. He landed at fifth, jumping over John Kennedy, Thomas Jefferson and Harry Truman, who were ahead of him the last time around.
The biggest decline was that of Andrew Jackson, who slid from 13th in 2000 and 2009 to 18th. Richard Norton Smith, a presidential biographer and member of C-SPAN's advisory team, suggests that the changing fortunes of Eisenhower and Jackson are both partly the product of a "Trump effect."
Eisenhower, Smith told me, benefits from being "the anti-Trump—massively competent, self-effacing, moderate." He had been supreme Allied commander in Europe during World War II, and despite his Army background—or because of it—he warned, "A nation's hope of lasting peace cannot be firmly based upon any race in armaments but rather upon just relations and honest understanding with all other nations."
Eight years of comparative peace and prosperity made his administration a stark contrast to those of Obama and George W. Bush, which featured endless war and a deep recession. The disappearance of centrism in the Republican Party doubtless elicits a nostalgia for Ike, who triumphed over Joseph McCarthy and others on the far right.
Jackson, Smith suspects, has declined in public estimation as his slave ownership and brutal policies toward Native Americans have acquired new significance. It probably doesn't help that Trump's approach to foreign relations has been described as "Jacksonian" for its pugnacity, unilateralism and contempt for human rights considerations. Unlike Alexander Hamilton, Jackson inspired a Broadway musical (Bloody Bloody Andrew Jackson) that never found an audience.
Nothing about Trump, however, affects the standing of the highest-ranked presidents. Why not? Because he only highlights their well-known virtues.
Lincoln is revered for his humanity, his unflagging resolve and his capacity for profound thought and eloquent word. Washington was a master of dignity and statesmanship. Franklin Roosevelt had a capacity to inspire and unite Americans during the worst of times. They have as much in common with Trump as they do with Daffy Duck.
Trump might find a role model in Theodore Roosevelt, a fellow wealthy New Yorker with a taste for bold actions and expansive use of presidential power. It might be said of Trump, as it was of TR, that he wants to be the bride in every wedding and the corpse at every funeral.
But Trump lacks his disarming enthusiasm, battlefield courage and love of the outdoors, and he's not likely to leave a magnificent legacy for all Americans, as Roosevelt did with the national parks. Anyone who reflects on TR will not find reasons to admire the new president.
As for other presidents, their fans can take heart from the prospect that they will rate better than Trump in future surveys. There is even hope for James Buchanan.
© Copyright 2017 by Creators Syndicate Inc.