Dental Association Pushes Nonsensical Argument Against Dental Therapists
Mid-level dental providers can fill cavities and provide other basic dental services, allowing full-fledged dentists to focus on patients with serious problems.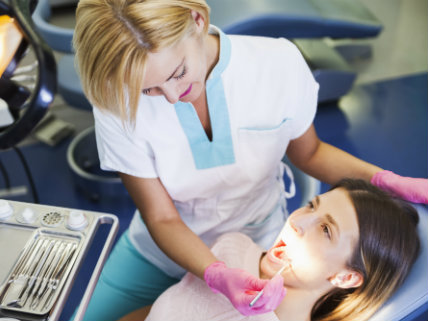 More states are considering legalizing mid-level dental professionals, known as "dental therapists," who have more training than hygienists but not as much as dentists.
Only four states (Alaska, Maine, Minnesota, and Vermont) have legalized the practice so far, but bills to allow dental therapists to work alongside traditional dentists have been introduced in a handful of other states this year, NBC News reported this week.
Increasing the supply of trained dental professionals would help expand access to dental care, something that many Americans unfortunately can't take for granted. According to guidelines from the U.S. Department of Health and Human Services, there are thousands of areas in the country experiencing a shortage of basic dental services (defined by the department as an area with more than 5,000 residents per dental provider), mostly in inner cities and sparsely populated rural areas.
In Minnesota, dental therapists have helped to address that shortage. As I wrote last year in the Wall Street Journal, dental therapists in Minnesota are helping to address that shortage by expanding existing dental practices and helping more people have access to care. Many of the children who see dental therapist Christy Jo Fogarty at the Minneapolis-based Children's Dental Services have never been to a dentist before because few dentists choose to set up practices in poor areas and only 40 percent of dentists nationally accept patients on Medicaid.
This sounds like a win-win, but the American Dental Association, which represents licensed dentists, is worried about the growth of dental therapy, as NBC News highlighted in its piece.
"They are licensed, and have taken boards," says Dr. Jane Grover, director of the ADA's Council on Access, Prevention and Interprofessional Relations. "Why wouldn't you want to have dentists treating patients that have high levels of disease?"
Grover is right about that last part. Dentists have a higher level of training than dental therapists and are able to treat a wider range of dental issues. Someone with "high levels of disease" absolutely should be treated by a dentist, if not a specialist.
That doesn't mean dental therapists are untrained. At the University of Minnesota, getting a master's degree in dental therapy requires 32 months of dedicated course work, taking the same classes as dental students who stay for the full 48-month program. After passing a state exam, dental therapists are authorized to clean teeth, take X-rays, and fill cavities, but they cannot do orthodontic or reconstructive work.
Grover is trying to confuse two related, but separate issues. Increasing access for mid-level dental providers actually fixes both.
Dental therapists are filling a much-needed gap in the supply of dental professionals who can perform basic treatments, giving more patients access to essential dental care. In turn, that allows dentists to focus on the more serious cases—the people with "high levels of disease" or problems that go beyond cavities.
This is really about the ADA trying to block what it sees as unwanted competition from new providers. State-level dental associations have fought dental therapy bills for the same reason.
Yet, in reality, this supposed threat of increased competition has resulted in cooperation that's good for both dentists and patients. One dentist in rural Minnesota who I spoke with for the Wall Street Journal piece, John Powers, told me that he was initially skeptical of dental therapists but now employs four of them because being able to treat more patients helps his bottom line.
The Federal Trade Commission has urged dental-school accreditors to clear the way for mid-level professionals like therapists, arguing that they can "increase the output of basic dental services, enhance competition, reduce costs, and expand access."
States should clear the way for more mid-level dental professionals—even restricting them to practicing only in areas with dental care shortages or under licensed dentists, as has been proposed in some places. Restricting the supply of dental care does nothing to help patients and probably doesn't help dentists either, regardless of what the ADA says.