Alt-Right Leader Richard Spencer Crashed a Student Libertarian Conference and Was Shunned
The International Students for Liberty Conference is no place for racial collectivism.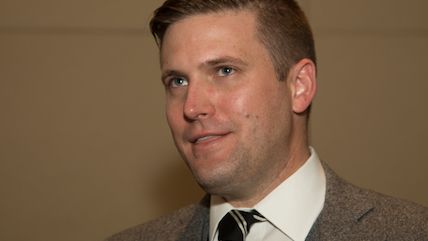 (Jeff Malet Photography/Newscom)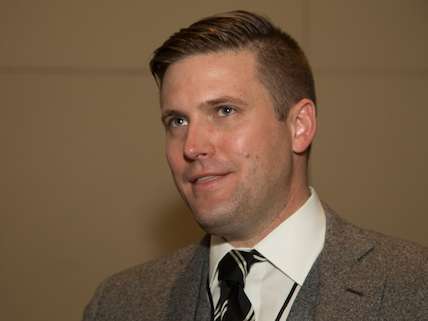 On Saturday, alt-right leader Richard Spencer crashed the 10th annual International Students for Liberty Conference at a hotel in Washington, D.C. After quarreling with conference attendees, he left the premises.
Spencer, a self-declared white nationalist who believes the U.S. is losing its white identity, had no business attending a gathering of libertarian students, and conference organizers had every right to eject him. Indeed, their decision to do so was a valid exercise of libertarian principles in action.
I attended the conference, along with several other Reason staffers. The Reason Foundation is a co-sponsor of ISFLC, and hosted several events during the conference. One of those events, a panel discussion about sex trafficking featuring Reason Associate Editor Elizabeth Nolan Brown and Director of Criminal Justice Reform Lauren Krisai, unfolded at roughly the same time as Spencer's unsolicited visit. I was in the audience at that event, and did not cross paths with Spencer.
But it's clear from video footage that Spencer set himself up in the bar of the hotel—the Marriott Wardman in Woodley Park—and attempted to host an unscheduled and unwanted conversation about his despicable views. To be absolutely clear: Spencer was not welcome at the hotel and had not been invited to participate in ISFLC.
"We did not invite Mr. Spencer," said SFL CEO Wolf von Laer in a statement. "We reject his hateful message and we wholeheartedly oppose his obsolete ideology."
Eventually, Jeffrey Tucker—an influential libertarian thinker—confronted Spencer and made clear to the alt-right provocateur that he "did not belong" at ISFLC. Some shouting ensued, and hotel staff intervened. Shortly thereafter, Spencer left.
It's not completely clear whether Spencer departed of his own accord: he seems to think he was forced to leave, while others say he asked security to see him out safely, even though he was in no danger. But it hardly matters: the Marriott Wardman hotel is private property, and should enjoy the absolute right to evict irksome and unwelcome guests from its premises.
Spencer has attempted to wring as much publicity from the incident as possible—he tweeted about it no fewer than 40 times, by my count. In his mind, libertarians are "lolbertarians" who need to "accept the reality of race" and get serious about "white replacement." To the extent that his only goal in life is to garner more attention for his fringe worldview, I suppose the stunt was a success—here I am writing about it. Congrats to you, guy who thinks "the United States is a European country."
In any case, the incident should make abundantly clear that the alt-right's racism is incompatible with the principles of a free society. Libertarianism is an individualist philosophy that considers all people deserving of equal rights. In contrast, Spencer is a tribalist and collectivist whose personal commitment to identity politics vastly exceeds the left's.
Spencer is entitled to broadcast his vile opinions, and to make equal use of public resources. He should not be attacked on the street, or anywhere else. But no private actor is required to give him a platform—otherwise, property rights would cease to matter.
ISFLC, an organization that works tirelessly to support the cause of liberty all over the world—not just for white American college students—handled the matter correctly, in my view.
Disclaimer: I am a friend of Students for Liberty, and won the organization's 2016 Alumni of the Year Award.