Absurd State Licensing Rules Could Send a Woman To Jail Just for Touching a Horse
Of course. State board says she has to go to veterinary school to learn something she already knows and the schools don't teach.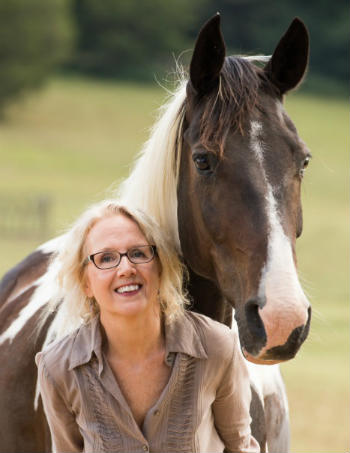 If Laurie Wheeler puts her hands on a horse, she could go to jail.
Not because she would hurt the animal—she'd never think of doing such a thing—but because of an anonymous complaint submitted to the state's licensing board that governs veterinary medicine.
Wheeler has been studying horse massage since 2010, when she adopted an abandoned horse suffering from a potentially life-threatening neurological condition known as equine protozoal myeloencephalitis. Her horse, Jazz, was treated with a mix of medication and massage therapy, and Wheeler became interested in the practice. Since then, she's twice been certified in equine massage by an Indiana-based animal therapy school, and, in 2016, successfully obtained a license from the state of Tennessee, where she lives, to practice massage therapy on humans.
She planned to expand her hobby into a professional career working with both equines and equestrians.
Before she could, though, the Tennessee Board of Veterinary Medical Examiners got involved.
In April, Wheeler received a letter from the board explaining that she wouldn't be allowed to give horse massages in Tennessee without being licensed as a veterinarian—a process that would require years of additional, expensive schooling. If she ignored the board's letter and continued to practice, even if she gave horse massages for free rather than as a business, and she could face fines of up to $500 and could be sent to jail for as much as six months for committing a class B misdemeanor.
That's when she got worried, Wheeler told Reason in a phone interview this week.
"I can be fined heavily or put in jail for massage horses, even if I do it for no money," she said. "I would have to go to veterinary school, and how crazy is that? I wouldn't learn anything about massaging there, because it's not in the curriculum."
As Wheeler pushed back against the board's threats, things started to make even less sense.
In an email shared with Reason, Wheeler asked who had filed a complaint against her, prompting the board's cease-and-desist letter. That was confidential, she was told. A right-to-know request seeking more information was blocked by the board, on the grounds that she was seeking private medical records.
Could she petition the board to change their rules regarding horse massages? No, "it wouldn't help to petition the Board," she was told by Keith Hodges, an attorney for the board, in an email dated July 18, 2016, because the definition of veterinary medicine was a matter of state law—even though the relevant state law says nothing about animal massaging.
What if she wasn't getting paid, she asked, would that make a difference?
"Arguably, compensation shouldn't matter," Hodges wrote back, since the purpose of the law is "to protect the public from being misled by incompetent, unscrupulous and unauthorized practitioners" and says nothing about being paid.
As Wheeler learned more about the board's rules, she found more head-scratching inconsistencies.
Giving a massage to a horse in Tennessee requires a veterinary license, but a resident of the state can castrate a horse or artificially inseminate a horse without being licensed—even though both of those activities would seem to have more in common with a vet's medical training than anything Wheeler was doing.
"That's an arbitrary and inconsistent restriction on the liberty to work," says Braden Boucek, the director of litigation for the Nashville-based Beacon Center, a free market think tank.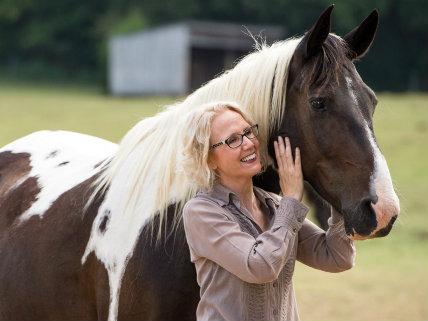 Boucek has been working with Wheeler (and another woman, Martha Stowe, who has similarly been told by the state Board of Veterinary Medical Examiners that she can't practice horse massages) on the legal ramifications of her conflict with the board. No lawsuit has been filed as of this writing, but Boucek believes the two women would have a strong case if they decided to pursue it—and if the board refuses to back down.
Horse massaging is a relatively obscure but growing profession. Increased interest in alternatives to traditional medical treatments in American healthcare has spilled over into an expanding use of similar cures for pets and livestock. The American Holistic Veterinary Medical Association, which represents vets who practice alternative forms of treatment, has grown from having less than 50 members in 1982 to more than 1,000 members last year.
"They're trying to build out their own holistic practices, and I don't blame them for doing that," says Richard Valdez, a Tennessee-based practitioner of horse massage therapy who offers his services to both equines and riders. "Overall, though, I feel like they're just trying to take control."
Valdez has been doing horse massages for 20 years and has worked with horses that competed on the U.S. Olympic team and at the World Equestrian Games. Like Wheeler, he's licensed as a human massage therapist in the state and has a private certification in equine massage, but he is not licensed as a veterinarian in Tennessee. He says therapy differs from veterinary treatment in several ways, but is a useful tool for competitive horses—which he likens to highly trained athletes or elite racing cars—and riders, to ensure they're performing at their highest levels.
"Examination-wise, treatment-wise, it addresses something that's really not taught in veterinary school and it's a great evaluation tool for the rider and for the horse," he says.
Bringing a harmless and potentially profitable practice under the broader umbrella of veterinary medicine does nothing help Wheeler and her horse (or her potential clients), but it does serve the interests of Tennessee veterinarians. Perhaps it's not surprising to learn that six of the board's seven voting members are veterinarians or vet technicians.
The board did not respond to calls and emails from Reason for this story. According to its website, the board's "mission is to safeguard the health, safety, and welfare of Tennesseans by insuring that all who practice as a veterinarian, veterinary medical technician, or euthanasia technician within this state are qualified."
In going after Wheeler, though, it doesn't seem like the board is too interested in her qualifications.
"It is the Board of Veterinary Medical Examiners opinion," Hodges wrote to Wheeler in an email, that "only veterinarians and persons working under the responsible supervision of veterinarians can massage animals."
Hodges did not respond to emails from Reason on Thursday.
Running afoul of the Tennessee Board of Veterinary Medical Examiners is easier than might be expected. A review of sanctions handed down by the board during 2016 shows that licensees can be fined or have their licenses revoked for a wide range of activities, some of which have nothing to do with the practice of veterinary medicine. In March 2016, the board suspected a license due to unpaid student loans. In May, another suspension was handed down when a licensee failed to pay child support.
Wheeler says she's not really sure why the board came after her—and her efforts to find out why have so far been fruitless.
"I think it is just a power trip. It just seems so completely absurd to me," Wheeler says. "It seems like there are boards across the U.S. that do this, and there just needs to be some reform."
Some reforms are happening, slowly.
Arizona's State Veterinary Medical Examining Board agreed this week to drop a similar licensing requirement. In an agreement signed last week by Judge David Udall, the board said it would no longer require animal massage practitioners, who provide therapeutic services to dogs, horses, and other animals, to obtain a veterinary license.
It's worth noting that exactly zero states require masseuses to be licensed as physicians before giving massages to humans. Such a requirement would make little sense, of course, and the same logic should apply here.
It's time for the Tennessee board's unbridled authority to ride off into the sunset, Boucek says.
"There is no health and safety concern to massaging a horse, so this is not a legitimate field to regulate," Boucek said. "Even if it were, requiring vet school is not a reasonable means of achieving that goal."