Trump Names New Labor Choice, Will Introduce New Immigration Order, Complains About Accessibility of Illegal Drugs: P.M. Links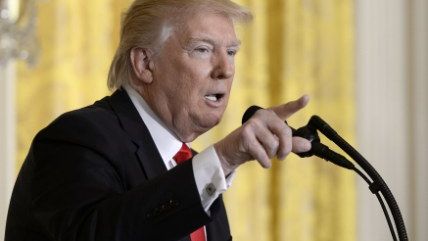 (Douliery Olivier/Sipa USA USA/Newscom)
Douliery Olivier/Sipa USA USA/Newscom

President Donald Trump named R. Alexander Acosta, a former law school dean and an assistant attorney general under President George W. Bush, to replace Andrew Puzder as his choice to head the Department of Labor.

Trump also in a wide-ranging press conference both complained that coverage of contacts between his administration and Russia were fake news while at the same time promising to investigate the leaks that caused it. He said he would be introducing a new immigration executive order to apparently replace and narrow down the one federal courts have blocked.
While the media may obsess over how Trump treats them (and over Trump's own obsession with his numbers), maybe pay more attention to Trump complaining that "drugs are becoming cheaper than candy bars." No, this isn't an acknowledgment that protectionist trade policies and sugar subsidies are driving up the price of snacks. Trump believes that America is a "drug-infested nation" and that the low prices are a problem, rather than perhaps a reason why violent crime trends had been heading downward.
South Carolina Rep. Mick Mulvaney has been confirmed to lead the Office of Management and Budget. Sen. John McCain voted no because Mulvaney wasn't as willing to throw as much money at the military as McCain would.
Neil Gorsuch's Senate hearings for Supreme Court consideration will begin March 20.
Washington State's Supreme Court ruled unanimously that a florist could not refuse to provide her services and floral arrangements for a gay couple's wedding. They rejected her argument that her religious freedom was being infringed upon and rejected the argument that her floral arrangements count as protected artistic expression.
Follow us on Facebook and Twitter, and don't forget to sign up for Reason's daily updates for more content.