Cosmetology Board Investigates Student for Giving Free Haircuts to Homeless People
Juan Carlos Montesdeoca thought he was doing an act of charity, but in the eyes of the State Board of Cosmetology, he was putting people in "real risk."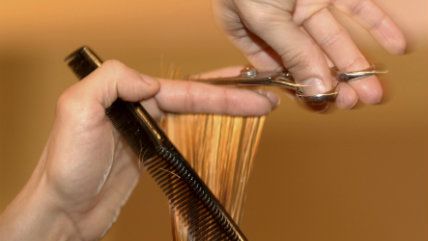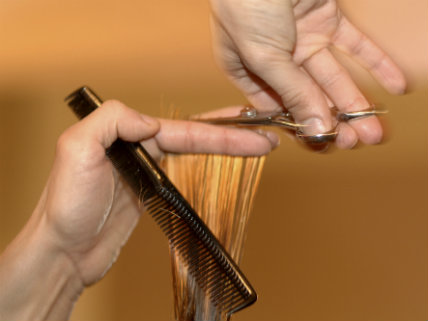 An unlicensed student gave free haircuts to some homeless people in Tucson, Arizona, and the state's cosmetology licensing board was ON IT.
The Arizona State Board of Cosmetology is investigating Juan Carlos Montesdeoca after receiving complaints that he was cutting hair without a license, Tucson News Now reported Monday. According to the complaint, which Montesdeoca shared with the TV station, the board received an anonymous complaint alleging that Montesdeoca was "requesting local businesses and local stylists to help out with free haircuts (unlicensed individuals) to the homeless."
Montesdeoca gave the free haircuts on January 28 at the library in downtown Tucson. He organized the event through a Facebook group and solicited help from volunteers. He did it "out of the kindness of my heart," and in memory of his mother, who loved her hair, he told Tucson News Now.
But he forgot to get permission from the state—or, rather, from the cosmetologists who apparently view his act of charity as a form of unwanted competition.
There's no shortage of stories about licensing boards using the power of the state to target individuals whose only crime is failing to get permission to start a business. Rarely, though, is the craven anti-competitive nature of those boards made this obvious.
Incredibly, the board is standing by its decision to investigate Montesdeoca.
Donna Aune, the board's executive director, declined to comment to Tucson News Now about the "active investigation," but she pointed to a state law prohibiting a person from practicing cosmetology without a license.
She said working outside a licensed salon and using an unlicensed person, is a "real risk."
The board did not respond to Reason's inquires.
The risk of getting a bad haircut is certainly chilling. But these were free haircuts. Free haircuts given to people who were in no position to pay for one. I'm sure they were aware of the risk they were taking by letting the unlicensed Montesdeoca cut their hair outside of a licensed salon environment, but they were probably okay with that level of risk considering they were homeless and were getting haircuts for free.
Stories like this make it clear why Arizona was rated as "the most broadly and onerously licensed state for low-and moderate-income workers," in a 2012 report from the Institute for Justice, a libertarian law firm that provides support to individuals and businesses that challenge anti-competitive licensing schemes. Earlier this week, we reported on how three women, with help from IJ, successfully defeated a rule from the Arizona State Veterinary Medical Examining Board prohibiting anyone except licensed veterinarians from giving animal massages.
The absurdities of Montesdeoca's story are almost overwhelming, but set aside the ridiculousness of this situation for a moment and consider the implied relationship between licensing and quality. Sure, getting a license requires years of training—in Arizona, a cosmetology license requires more than a full year of expensive schooling in a wide range of beauty treatments—but it's possible to be skilled in cutting hair without having a government-issued permission slip.
On the flip side, a license isn't a guarantee of quality. Here's a story about a woman who had her eyebrows burned off at a licensed beauty salon (and also an incredible piece of overly-dramatized investigative journalism) in Arizona. In Tennessee, a cosmetology board tried to stop a start-up business that offered in-home visits from licensed cosmetologists. Similar boards in other states have tried to stop hair-braiding, in order to protect their own members at the expense of low-income individuals who are just trying to make a living and are not a threat to anyone's health or safety.
So maybe the Arizona State Board of Cosmetology is interested in something other than quality and public safety.
One of its members, apparently, sees free haircuts for homeless people as a threat to business and the board dutifully is threatening Montesdeoca's livelihood. Depending on the outcome of the board's investigation, his career as a cosmetologist could be over before it starts.
"Even before I even try to get a license, they can say 'no,'" he told the TV station.
That'll teach him to help the homeless.