Detroit Mom Forced to Give Birth on Jail Floor After Arrest for Driving on Suspended License
Jailhouse video shows medical staff send the eight-months-pregnant woman back to her cell three times over a seven-hour period.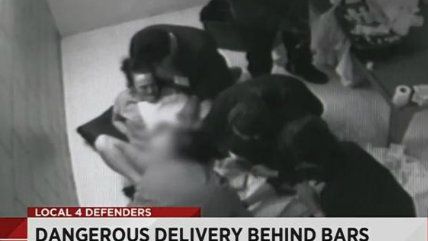 (screenshot/Local 4 news)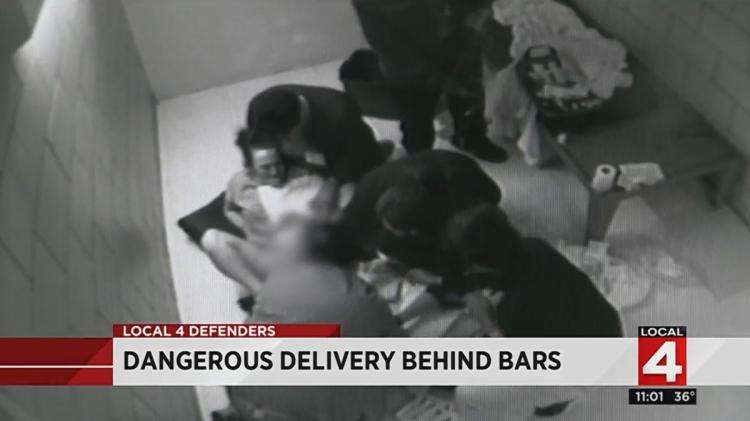 A Detroit woman picked up for driving on a suspended license was forced to give birth on the jail-cell floor after Macomb County Jail staff refused to believe she was going into labor. Jailhouse surveillance video shows medical staff sending the woman, Jessica Preston, back to her jail cell three times over a seven-hour period.
Preston's incident is the latest in a string of medical incidents involving Macomb County Jail inmates asking for medical help and not receiving it," according to Detroit NBC affiliate Local 4 WDIV. "Jennifer Meyers died when a virus turned into sepsis in July 2013. She was serving a 30-day sentence for failure to pay child support. In June 2014, David Stojcevski died at the end of a brutal 17-day drug withdrawal. His 30-day sentence was for failure to pay traffic tickets."
For Preston, the delivery, a month ahead of her scheduled Caesarian section, produced a baby boy who was underweight but healthy. After a few days at the hospital, the baby went home with its father and Preston was sent back to jail for five days.
But Preston needn't have been put at risk of giving birth in jail in the first place. She was arrested for a minor offense—driving on a license that had been suspended for failure to pay a speeding ticket—and had a hearing date set for 14 days later. Hardly a dangerous criminal, the most that was at risk with letting the eight-months-pregnant Preston out on a reasonable bond was that she wouldn't show back up in court.
The judge, however, set Preston's cash bond at $10,000, citing Preston's outstanding warrants in other jurisdictions. When Preston couldn't pay, she was ordered to wait out the time until her court date in jail.
Macomb County Sheriff Anthony Wickersham told Local 4 that his medical staff had done things right given the circumstances. He blamed the baby coming fast and a lack of medical staff for any shortcomings. "Could we have more medical staff? Should we have a full-time doctor on staff 24 hours a day? Obviously, that is going to cost taxpayers more money to increase that kind of contract."
But even if they aren't doctors, two medical staff should, over the course of seven hours, have been able to get Preston to the hospital—an institution "about three minutes away" from the Macomb County Jail, according to Sheriff Wickersham.