Super Bowl Revival of Bud Light Pitchdog Spuds MacKenzie Prompts Death Threat
Anti-alcohol activists are haunted by the ghost of the original party animal.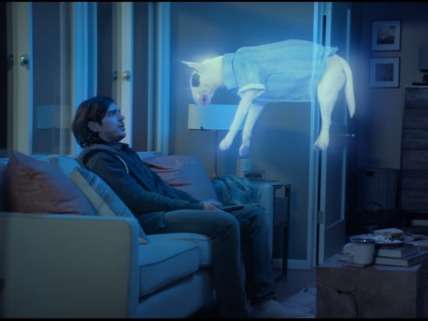 Long before Melissa McCarthy caused a stir by putting on a loose suit and a bad temper to impersonate White House Press Secretary Sean Spicer, a female English bull terrier named Honey Tree Evil Eye drew cheers and catcalls by putting on a beach shirt and and a laid-back attitude to play Spuds MacKenzie, "the original party animal." On Sunday, three decades after the character's debut at the 1987 Super Bowl, AB InBev revived the Bud Light pitchdog for a Super Bowl spot in which he appears as an apparition, voiced by Carl Weathers, to teach an indolent young man the value of beer-enhanced conviviality. Alcohol Justice, formerly known as the Marin Institute, was not amused:
30 years after being deeply buried in the well-deserved grave of youth-attractive booze-pitching animal characters, the universally condemned Spuds McKenzie has returned. Like a Zombie in search of new and younger victims, the dog will be pitching beer to a global audience estimated to include 30 million impressionable children.

"The specter of a three-decade old, cuddly Spuds McKenzie—the sunglass-wearing, Joe Camel of Big Alcohol—pushing beer again is unacceptable," said Michael Scippa, Director of Public Affairs for Alcohol Justice. "Resurrecting this despicable icon of irresponsible alcohol marketing proves that breaking the toxic social norm that binds alcohol to sports must begin with creating a divide between sports and alcohol ads."…

"We call upon world leaders to recognize the public health and safety costs and eliminate alcohol advertising, sponsorships, branding and promotions from all sports," added Scippa. "And let's begin by driving a wooden stake through the heart of a zombie, beer-pushing, cartoonish character."
You might think a group that sees Spuds MacKenzie as the caninification of all that is evil about the alcohol industry would take the trouble to spell his name right. And since Joe Camel came after Spuds MacKenzie, wouldn't it be more accurate to say that Joe Camel was the Spuds MacKenzie of Big Tobacco? Be that as it may, Scippa is fostering a potentially life-threatening misconception by encouraging people to believe that a wooden stake through the heart will kill a zombie.
It may be a bit of an exaggeration to say Spuds was "universally condemned." I know that Strom Thurmond did not like him, and neither did the Center for Science in the Public Interest. But ancient teetotalers and busybody killjoys aside, there must have been some people who liked the TV spots featuring Spuds, which were breathlessly narrated by Lifestyles of the Rich and Famous host Robin Leach. The campaign was credited with helping boost sales of Bud Light by 20 percent between 1987 and 1988. I myself do not recall being offended by the ads, notwithstanding their allusions to bestiality, so much as annoyed by their ubiquity and their implication that there was anything enjoyable about drinking Bud Light, a blatant lie that may very well have led impressionable youth astray.