U.S. Imposes New Sanctions on Iran After Putting Country 'On Notice' Over Missile Test
Trump admin complains Iran not responding appropriately to "very favorable" nuclear deal.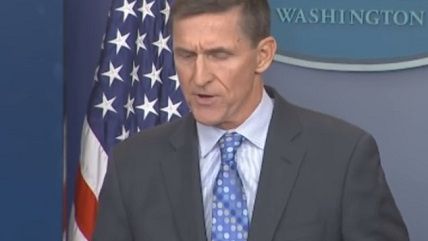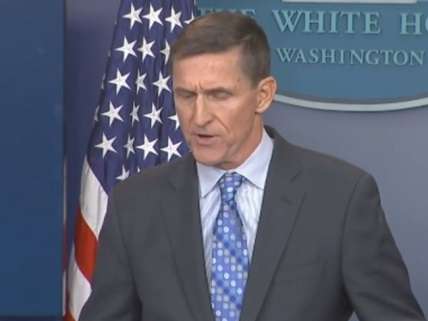 The Treasury Department announced it was imposing new sanctions on a number of individuals and entities it said were connected to Iran's missile program and the Islamic Revolutionary Guard's Quds force.
In a statement released earlier today, National Security Advisor Michael Flynn, who yesterday said Iran was being put "on notice" over a ballistic missile test that appeared to violate the U.N. security council resolution that endorsed the Iran deal, said the sanctions were a response to a pattern of behavior from Iran.
"The Islamic Republic of Iran is the world's leading state sponsor of terrorism and engages in and supports violent activities that destabilize the Middle East," Flynn said in the statement. "This behavior seems continuous despite the very favorable deal given to Iran by the Obama administration. These sanctions target these behaviors."
The U.S. also deployed the guided-missile destroyer USS Cole to the Gulf of Aden in response to missiles fired by Houthi rebels (who control the government) in Yemen at a Saudi frigate. While Saudi Arabia and the ousted government in Yemen insist the Houthi rebels are Iranian-backed, and the claim is often repeated unsourced by various U.S. media outlets, no substantive evidence of the claim has materialized. White House Press Secretary Sean Spicer mischaracterized the incident as Iran firing at a US Navy vessel. Although he corrected the identity of the vessel fired at after being asked by a reporter, the Trump administration is in alignment with much of the U.S. media in conflating the rebels in Yemen with the government of Iran.
Donald Trump, notably, was one of only a few Republican presidential candidates who did not make some version of a promise to tear apart the Iran nuclear deal on day one, instead complaining about it being a poorly negotiated one. His secretary of defense, James Mattis, has expressed support for the deal while acknowledging it was flawed, saying the U.S. should keep its word. Mattis, like some other Trump nominees, also expressed concern about Russia's own aggressive foreign policy. The pronouncements came after several months of fearmongering over Russia by Democrats, many of whom chose to blame the foreign country instead of their own party or candidate.
A substantive, meaningful détente with Russia, which as a burgeoning alliance with Iran, might have opened up new avenues for the U.S. and Iran to work through their disagreements instead of posturing through actions like missile test launches or sanctions and bellicose public statements. The early moves on Iran suggest Trump's warm words for the authoritarian in charge of Russia may not translate to a less belligerent U.S. foreign policy toward countries not in the U.S. foreign policy establishment's orbit.