New Secretary of State Rex Tillerson Asks Staff to Apply Lessons of Changing World Conditions to Domestic Change Too
No other nomination for high-level department positions requiring Senate confirmation has been made yet.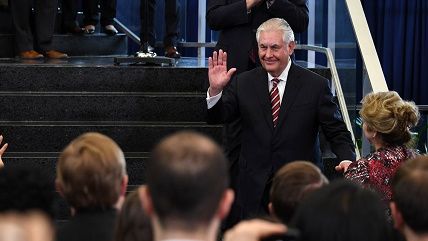 (Yin Bogu Xinhua News Agency/Newscom)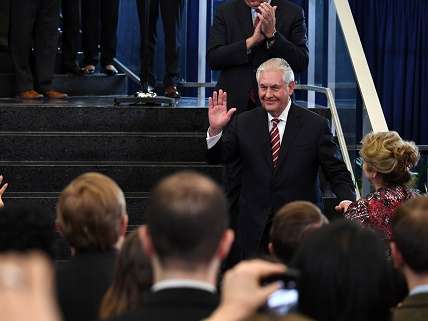 Secretary of State Rex Tillerson talked about reforming the State Department to make it more efficient, accountability, honesty, and mutual respect as core principles, and safety a core value for the department, in welcoming remarks on his first day on the job.
Tillerson called State Department staff "among the finest public servants in the world," saying that "when people see you they see America." Tillerson said the safety of State Department personnel is the first thing he thinks of when he wakes up in the morning.
"The safety of every single member of our State Dept family, regardless of where he or she is posted, is not just a priority for me, it's a core value," Tillerson said, saying that included foreign and civil service, other support staff, contractors, "implementing partners," and families of staff. "And it'll become a core value for this department."
Tillerson asked staffers to put their talents to use dealing with the transition. "One of the great challenges and thrills for the State Department staff is deciding how to confront changing conditions in every corner of the world, and I encourage all of you to use your natural and well-developed skills to adapt to changes here at home as well," he told them.
"I know this was a hotly-contested election, and we do not all feel the same way about the outcome," Tillerson continued. "Each of us is entitled to the expression of our political beliefs, but we cannot let our personal convictions overwhelm our ability to work as one team."
Tillerson said he was interested in deploying "the talent and the resources of the State Department in the most efficient ways possible," which "may entail making some changes to how things are traditionally done in this department." He promised not to implement "change for the sake of change," which he described as counterproductive, but warned that the department could not "sustain ineffective traditions over optimal outcomes." Tillerson told staffers he'd "gather information on what processes should be reformed and do my part to make sure we are functioning in the most productive and efficient way possible."
Tillerson described department employees' duties as "to faithfully represent our nation in the arena of foreign affairs," and told them they should stay focused on that mission "regardless of the circumstances shaping our country or our department."
"If we stay focused on the work before us, I promise I will work to ensure you achieve your own personal success and your professional satisfaction in what you are doing," Tillerson told staffers, continuing with an outline of three "core principles" he expected everyone to abide by—accountability, honesty, and respect.
"I ask that everyone strive for excellence and assume responsibility for their actions and their decisions," Tillerson said, insisting that organizations run best "when all of its members embrace accountability," and using the New England Patriots' "do your job" motto as an example.
"I want us to be honest with one other," Tillerson told staffers. "Honesty will undergird our foreign policy, and we'll start by making it the basis of how we interact with each other." It's unclear what that means policy-wise—the president's approach to foreign policy thus far has been marked largely by ambiguity.
Tillerson's last point about department principles was about respect. "We're going to treat each other with respect," Tillerson told staffers. "No one will tolerate disrespect of anyone. Before we are employees of the State Department, we are human beings first."
Tillerson noted that there were more than 75,000 members of the State Department workforce with an average of more than 11 years of department service. "I have 25 minutes," Tillerson continued. "Your wisdom, your work ethic and patriotism is as important as ever and as your secretary I will be proud to draw upon all these qualities in my decision-making."
Tillerson warned that while there would "undoubtedly be times of victory," there'd "also be many times of difficulty," and asked staffers to "go forward as a team through all of it."
The State Department has not yet held a briefing under the new administration, and only the ambassadors to China, Israel, and the United Kingdom have been nominated so far. None of the dozen or so positions of representatives to various international organizations, with the exception of Nikki Haley's nomination to the United Nations, have been filled either. Other than Tillerson, no nomination has been made for any of the other high-level State Department positions requiring Senate confirmation. While reporting before inauguration day said the incoming administration was dismissing all ambassadors, more than 100 ambassadors from the Obama administration remain at embassies around the world although, unsurprisingly all but one political (as opposed to career) appointment from the previous administration remains.