Trump's Travel Ban Forces Elderly Green Card-Holder to Stay in Iraq. She Died the Next Day (Updated: Family Imam Says Story is a Lie, She Actually Died Before the Ban)
Her son, a U.S. citizen, had worked with U.S. Special Forces as a contractor and interpreter during the Iraq War.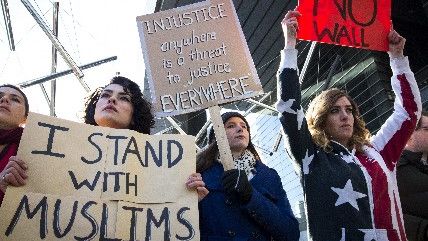 (Richard Atrero De Guzman/ZUMA Press/Newscom)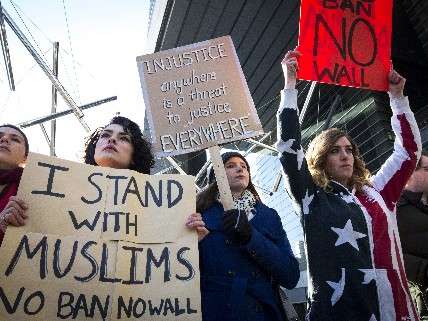 Mike Hager—an Iraqi-born U.S. citizen who fled his birth country during the first Gulf War, lived in a refugee camp for four years, and finally settled with his family in the U.S. in 1995—says his mother died in Iraq over the weekend after being denied entry back to the States, despite possessing a green card.
(UPDATE: Fox2 Detroit reports Hager's imam, Husham Al-Hussainy, says Hager's mother died five days before President Trump's executive order banning travel from Iraq and six other countries was implemented. Hager has not provided additional comment at this time.)
Hager told Fox2 Detroit that he, his 75-year-old mother, Naimma, and several other green card-holding relatives had been visiting family in Iraq, but were prevented from boarding a U.S.-bound plane at the airport, as a direct result of President Trump's executive order banning all visitors from seven countries—including Iraq. Trump's ban is set to last for 90 days, ostensibly to allow the U.S. government to ferret out "individuals with terrorist ties and stopping them from entering the United States."
Among his family only Hager, a U.S. citizen, was allowed to travel.
"I was just shocked," Hager said to Fox2, "I had to put my mom back on the wheelchair and take her back and call the ambulance and she was very very upset. She knew right there if we send her back to the hospital she's going to pass away – she's not going to make it."
By all appearances, Hager is the complete opposite of the secret jihadist embedded with refugees that exists in Trump's fantasies. Hager fled a war zone, became a U.S. citizen and business owner, and volunteered to work with the U.S. military during the Iraq War as a contractor and interpreter—even surviving getting shot in the back. He and his family appear to be a model of refugees, striving for and attaining the American Dream.
Hager believes his mother would have survived had she made it back to the States and received better medical care than was available to her in Iraq. In his grief, Hager is now is left to worry about if and when his nieces and nephews—also green card holders—will be permitted back into the U.S.
"This is our home. We've been here for too long, we've been here since we were kids," Hager told Fox2.
My Reason colleague Eric Boehm profiled an Iranian-American family—specifically an Iranian-born green card holder and his 66-year-old mother—who are left wondering if they'll ever be able to visit each other again thanks to the confused language and blunt implementation of Trump's executive order. Boehm writes:
Trump's immigration policy deems a 66-year-old grandmother to be such a threat to the safety of the United States that she doesn't even have the chance to look immigration officials in the eye and assure them that she's not a terrorist. It's a policy that will keep her from being able to visit her son and daughter-in-law, and may even keep her from ever looking at her grandchild.