Trump Gives First TV Interview as President, China Says It Offers 'Anchor of Stability', Elon Musk Wants To Tunnel Under Los Angeles: A.M. Links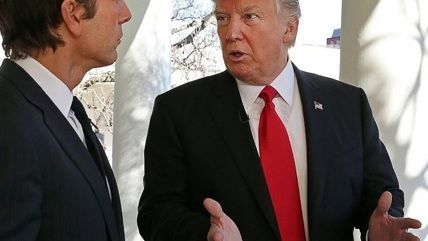 ABC News

President Trump gave his first television interview from the White House, telling ABC News' David Muir he "absolutely" thought waterboarding worked and doubling down on his claim of massive voter fraud. Reactions in Chicago to Trump's tweet about sending the federal government in to deal with the homicide rate range from skeptical to optimistic, with politicians looking for more money and residents talking about jobs.

In an uncertain world, China provides "an anchor of stability and growth," its premier, Li Keqiang wrote in Bloomberg Businessweek.
Al-Shabaab fighters stormed a hotel in Mogadishu, killing at least 28.
Elon Musk wants to tunnel under Los Angeles.
Academy Award-nominated Moonlight director Barry Jenkins says black people don't have to play slaves to win Oscars.
Number 13 seed Venus Williams made it to the Australian Open finals.
Season three of Rick and Morty is running late.