Teen Throws Paper Airplane in Class. He Was Arrested and Faces 30 Days in Jail.
Police don't belong in schools.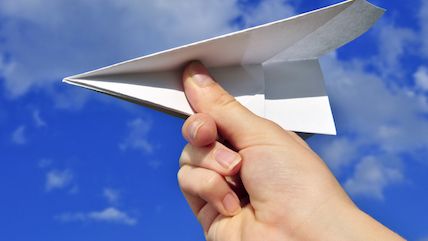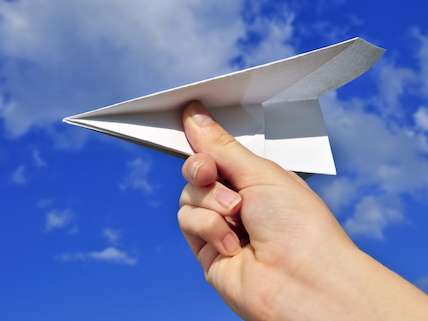 Georgetown County, South Carolina, sheriff's deputies arrested a 17-year-old for throwing a paper airplane at a teacher. The teen was charged with third degree assault and battery, and faces 30 days in jail.
It's not quite as crazy as it sounds. The paper airplane struck the teacher, Edward McIver, in the eye. McIver had recently had eye surgery, according to the South Strand News.
What's more, the teen—David Michael Elliott—had a record of misbehavior in the classroom. When confronted, he admitted he threw the airplane at McIver, and defended himself by saying that he had meant to hit McIver in the head, rather than the eye. He offered no further justification for the misdeed.
Eye surgery hurts—I know, I've had it—and taking a paper airplane in the eye sounds pretty awful. This kid seems like he has a real problem, and some kind of harsh disciplinary measure would have been well justified.
But now the matter is out the school's hands. That's because Andrews High School employs a school resource officer (SRO) to mete out justice.
The SRO, Deputy Paul Glover, met with Elliott, who admitted wrongdoing. That's a big problem. Was Elliott read his rights? Did he know that he should remain silent and ask for a lawyer?
When asked if she felt Elliott's arrest was warranted, AHS Principal Michelle Greene said she thought the incident did constitute an assault, but added deputies make the ultimate determination as to whether criminal charges are filed.

"That's the law enforcement side," Greene said. "That is a violation of school policy, but if law enforcement … deem it necessary to get a warrant for it, then that's what happens. The school does not interfere with law enforcement business, and they don't interfere with ours."
Maybe the school doesn't interfere with law enforcement, but it introduced law enforcement into the situation in the first place, by employing an SRO.
As Tyler Kotesky and I explained in a feature story from the March issue of Reason, schools' increasing reliance on the police has profound negative consequences for kids. Disciplinary matters that should be handled by principals, teachers, and counsellors are instead left in the hands of cops, who have at their disposal a much harsher set of corrective measures.
You might think a kid who deliberately chucked something at a teacher deserves a harsh punishment, and I would agree. But kids who do that sort of thing clearly have behavioral issues—issues that won't be sorted out, and will likely be made worse, if they are convicted of a crime and sentenced to jail time. Jail does not build character: spending time there makes it much less likely that a teenager will actually finish high school, attend college, and become a productive member of society.
Schools should not involve cops in routine disciplinary matters, because doing so escalates the dispute and decreases the likelihood that the punishment will be logical. But keeping cops out of the business of disciplining teens is impossible unless we keep them out of schools, period.
Another tool for restoring a modicum of fairness to school discipline is school choice. Because most school resource officers are stationed in traditional public schools, reforms like voucher programs and expanding charter schools are great ways to incentivize better alternatives.
National School Choice Week, an annual event promoting the ability of parents and students to have greater options in K-12 education, starts today. Over 21,000 events involving almost 17,000 schools from all 50 states will take place over the coming days. Go here to get more information about events and data about how increasing school choice—charters, vouchers, educational savings accounts, and more—is one of the best ways to improve education for all Americans. As a proud media sponsor of National School Choice Week, Reason will be publishing daily articles, podcasts, videos, interviews, and other coverage exploring the ways in which education is being radically altered and made better by letting more people have more choices when it comes to learning. For a constantly updated list of stories, go to Reason's archive page on "school choice."