CIA 'Black Sites' Could Be Back Soon, Per Leaked Trump Administration Draft Order
The secret prisons used by the CIA during the Bush administration-where torture took place-could get a Trump-era reboot.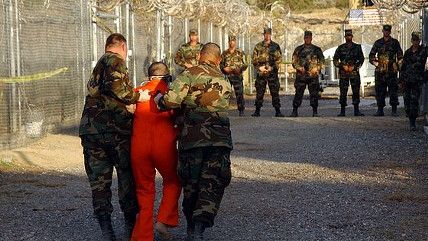 (Photographers Mate 1st Class Shane T. McCoy/Wikimedia Commons)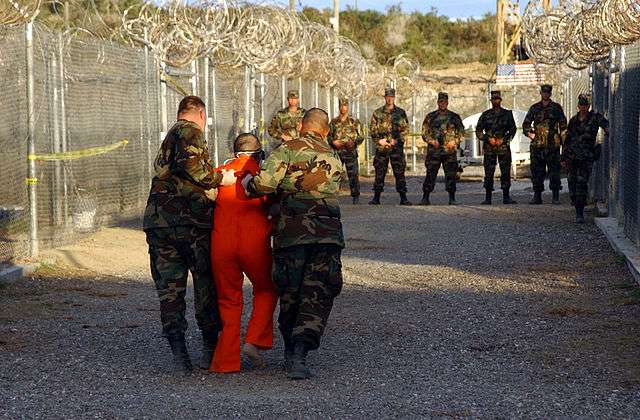 The Trump administration intends to make the first moves toward re-opening CIA "black sites"—the secret prisons in foreign countries used for extraordinary rendition, interrogation, and sometimes torture during the Bush administration—according to a three-page draft executive order reportedly obtained by the The New York Times and Associated Press.
(Update: White House Press Secretary said today the administration has no plans to re-open "black sites," that the draft order did not originate from the White House, and that he doesn't know where it originated from.)
(Update 2: The draft order is a nearly-verbatim recycled version of one created for Mitt Romney's 2012 presidential campaign, Buzzfeed reports.)
A day after President Trump put a gag order on a number of federal agencies, a "U.S. official" who "demanded anonymity" gave a copy of the draft order to the AP, who reports that the document makes clear that "U.S. laws should be obeyed at all times and explicitly rejects 'torture.'"
Neither The Times nor the AP have published the document, but both outlets report that part of the draft order instructs senior security advisers to "recommend to the president whether to re-initiate a program of interrogation of high-value alien terrorists to be operated outside the United States and whether such program should include the use of detention facilities operated by the Central Intelligence Agency."
That language is vague enough to read that the Trump administration is willing to be talked out of re-opening black sites—if the big security honchos say it's not worth the fallout—but in the meantime, a number of key points in the draft order would clear the way to make such conditions possible.
Two executive orders issued by former President Barack Obama shortly after he took office in January 2009—one ordering the closure of the Guantanamo Bay Naval Base (GTMO) military prison, the other to end the use of CIA black sites, allow the Red Cross detainee access, and restrict interrogators to use only methods permitted by the Army Field Manual—would be revoked if Trump's draft order became official.
However, Trump's draft order would reinstate a 2007 executive order issued by former President George W. Bush allowing the use of "enhanced interrogation techniques," such as "extended sleep deprivation." The Bush administration insisted such tactics would not be considered war crimes, but they were among those methods disallowed by the Obama administration, according to the Times.
Sen. John McCain (R-Ariz.) issued a statement in response to the news of Trump's draft order reading in part, "President Trump can sign whatever executive orders he likes. But the law is the law. We are not bringing back torture in the United States of America."
McCain, a torture survivor and the chairman of the Senate Armed Services Committee, is referring to the amendment to a defense authorization bill he co-sponsored—and which was signed into law last year by Obama—that makes the Army Field Manual the required standard of practices for interrogating detainees, and also permits the Red Cross access to detainees.
But McCain's case is not rock-solid: the secretary of defense can order the Army Field Manual's contents to be changed, and the next required review of the field manual is December 2017.
Throughout the presidential campaign, Trump insisted he would bring back waterboarding and other "enhanced interrogation techniques," at times refusing to concede that they constituted torture and at others, not caring if they did. The Times quotes Trump as saying, "if it doesn't work, they deserve it anyway." The president has also described the Geneva Conventions as "out of date."
Secretary of Defense James Mattis seemed to persuade Trump on torture's ineffectiveness back in November, but how Trump will reconcile his many policy differences with those of certain members of his cabinet remains to be seen.
When the Senate Intelligence Committee's report on CIA torture (a heavily redacted 500-page mini-version of a larger and still-classified 6,700 page report) was released in 2014, it revealed widespread use of torture in nine different countries, little or incompetent oversight, and a total failure by the CIA to "adequately evaluate the effectiveness of its enhanced interrogation techniques."
In a recent Reason magazine article by law professor and attorney Martha Rayner, she describes the experience of one of her clients, a "War on Terror" detainee who experienced a hellish odyssey of rendition and torture before landing at the military prison at GTMO, where he remains today:
After my client's disappearance, he was relocated multiple times—trussed like an animal, diapered, blindfolded with blackout goggles, made deaf with earmuffs, wrapped in tape, and strapped to a stretcher. Each transfer was accompanied by the uncertainty and dread of not knowing what was to come. One of the stops was at a CIA-run site in Afghanistan dubbed the "Dark Prison" by detainees who emerged to describe the complete darkness they had been held in, 24 hours a day, seven days a week. While there, Mr. al-Kazimi tried to kill himself on three separate occasions by hitting his head against the wall of his cell. Each time, his U.S. captors intervened and injected him with drugs that put him out.
Below you can watch my Reason TV inteview with ACLU attorney Hina Shamsi about her client—another GTMO detainee—and the diary he wrote while in captivity that became a best-seller.