SNL Should Have Suspended the Writer Who Planned the Obama Song, Not the Writer Who Made Fun of Barron Trump
At least try to be funny.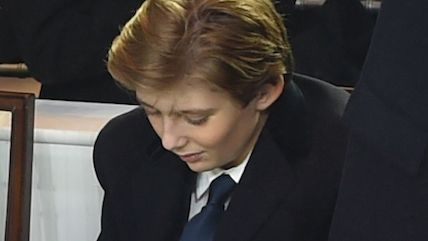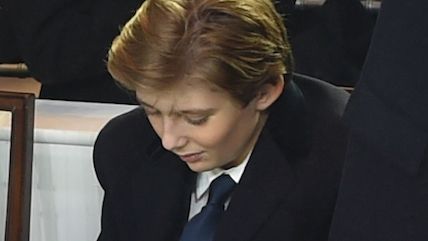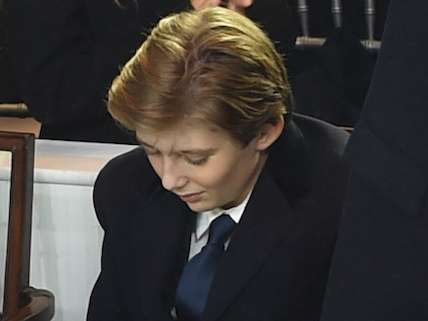 Saturday Night Light has suspended one of its writers for making a joke about Barron Trump on Twitter. Katie Rich's suspension is "indefinite," meaning it's not clear whether she will actually return to the show.
Rich had speculated that Barron—President Trumps 10-year-old son—would be the nation's "first homeschool shooter." Outraged citizens demanded that NBC fire her, and even launched a petition to that effect.
Subsequently, Rich apologized.
"I sincerely apologize for the insensitive tweet," Rich wrote on Twitter. "I deeply regret my actions & offensive words. It was inexcusable & I'm so sorry."
Are politicians' kids off-limits? Many people seem to think so, and that makes some sense. Barron's just a kid. He didn't ask for this.
But then again, isn't an SNL writer's job to, um, make up jokes? Not to avoid offending the rich and powerful, and their offspring?
Anyway, while we're on the subject of which SNL writers should lose their jobs, whose bright idea was it to glorify President Obama on his way out? Yes, that's right, Hillary Clinton singing "Hallelujah" wasn't enough: SNL had to find a way to outdo its previous obeisance to the Democratic Party.
"Once was enough—too much even," Slate's Mathhew Dessem wrote, referring to the Clinton and Obama tributes. "This is just, and I'm saying this because I care about you, kind of embarrassing for everyone."
I agree. Maybe instead of punishing the writer who was at least taking a stab at being funny (albeit inadvisably), SNL should fire the writer who thought fading to "Thank You President Obama" was a good idea.
Remember that one time SNL was funny?