Pro-Trump Rally in Nigeria: 65+ Arrested, 11 Allegedly Killed by Security Forces
A pro-independence movement in Nigeria hopes to get support from the new U.S. president.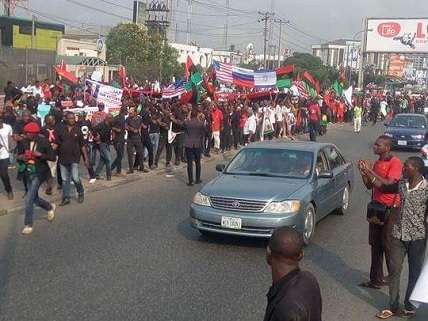 A pro-Donald Trump rally held Friday in Port Harcourt, in the southeast of Nigeria, ended with the arrest of at least 65 protesters, according to local police, while organizers initially claimed more than 200 people went missing after the protests and local media reported 11 people killed at the rally, both claims police denied.
The protest occurred in the region of Biafra, which seceded from Nigeria in 1967, sparking a two-and-a-half year civil war that ended after a federal blockade that starved up to 3 million Biafrans during the course of the war, and was organized by Indigenous People of Biafra (IPOB), which continues to advocate Biafran independence. IBOP hopes that Donald Trump will support the group's efforts at self-determination, and reportedly threw their support behind him early in the process. After Brexit, Yahoo News reports, IBOP advocated for a "Biafrexit" vote on the issue of Biafran independence.
Local police insisted the protest was "unlawful" because the demonstrators did not have permits—the protesters' defenders point to the Nigerian constitution's guarantee of the right to peaceful assembly. "The last time I checked, that section of the constitution is still intact and has not been amended. It is therefore worrisome and that the rights of a section of Nigerians would be so wilfully denied with such extra force," Senator Enyinnaya Abarib said, according to Nigeria Today. "If the report of killings by the security agencies were to be confirmed, it would no doubt leave a gaping hole in the unity of this country."
Back in October, at least two Ugandan youths were arrested after a group from the Uganda Young Democrats, the youth wing of the moderate conservative Ugandan Democratic Party, rallied in support of Donald Trump outside the U.S. embassy in Kampala. The group was reported as having caught local embassy security "by surprise" and then trying to negotiate with embassy officials to permit them to campaign for Trump from inside the facility More local security personnel arrived as reinforcements and shut down the group. At least one protester was holding a sign that read "A vote for Trump is a vote against African dictatorship!" In recent years, the Ugandan government, led by long-time autocrat Yoweri Museveni, has enjoyed generous U.S. military assistance courtesy of the taxpayer as it aligned itself with U.S. counterterrorism efforts.