Trump White House Vows to End 'Dangerous Anti-Police Atmosphere'
What he really means is stopping the feds from exposing police misconduct and lies.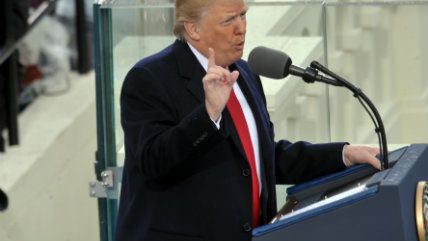 (Phil McAuliffe/Polaris/Newscom)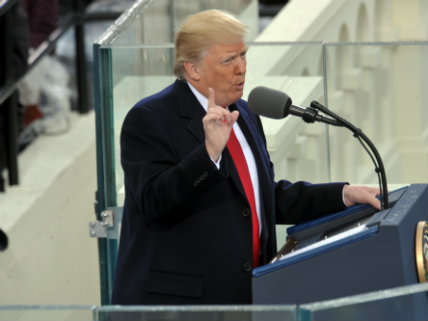 While Donald Trump was delivering an inauguration speech filled with grim references to "American carnage" and out-of-control crime on Friday, his White House was already launching its rhetorical war against police critics.
"The dangerous anti-police atmosphere in America is wrong," the White House says in its new page on law enforcement, launched almost simultaneously with Trump's inauguration. "The Trump Administration will end it."
Like so much of Trump's rhetoric, the page is long on bigly statements and short on details about how his administration will accomplish the fraught task of repairing relations between the men and women in blue and the communities they serve. Much of the plan has to do with Trump's preoccupation with ending illegal immigration.
So, what Trump really means when he talks about ending the "anti-police" atmosphere is stopping the federal government from exposing civil rights violations that give credence to police reform groups and Black Lives Matter activists.
Under the Obama administration, the Justice Department Civil Rights Division dramatically escalated the number of pattern and practice investigations into police departments for civil rights violations. The division's scathing reports on the Ferguson, Baltimore, and Chicago police departments, launched in the wake of controversial deaths at the hands of officers, revealed systemic civil rights violations and unconstitutional practices that fueled much of the national conversation on policing.
Those days are over.
One of the concrete plans the Trump administration does have for restoring "law and order" is slashing the budget of the Civil Rights Division by $58 million, roughly a third of its requested budget for the current year. Trump's pick for Attorney General, Sen. Jeff Sessions, has long been a staunch supporter of police and critic of the Justice Department's civil rights investigations.
If the Trump administration thinks, though, that giving lip service to "blue lives matter" rhetoric and shielding police from scrutiny will end antipathy toward police, it's in for a rough discovery. It's hard to overstate the current trust gap between police and minority communities in large cities, the morale problems among those departments, and even the difference in perception between white and black police officers.
As my colleague Ed Krayewski wrote, a recent wide-ranging Pew survey on police attitudes found that:
More than 85 percent of all cops surveyed said high-profile incidents of police brutality have made their jobs harder—nearly 75 percent of respondents say highly publicized incidents of police brutality have increased tensions between police officers and black community, while 72 percent say cops in their department are "less willing to stop and question suspicious persons" (with the number as high as 86 percent of cops in departments with at least 2,600 police officers). Few cops (just 14 percent) said they thought the general public understood their risks at least somewhat well. By comparison, 83 percent of American adults insist they understood risks police faced. 87 percent of big city cops said interactions with black residents had become tenser, while 61 percent of cops in smaller departments agreed […]

Only 27 percent of white officers said they believed protesters were driven at least in part by a desire for police accountability, while nearly 70 percent of black police officers acknowledged as much. Older officers were also more likely to believe protesters were genuinely concerned than younger officers were. 63 percent of white cops said they would tell a colleague to break department protocol to do what is morally right—just 43 percent of black cops responded the same way. More than 90 percent of white officers said the U.S. has done what was needed to secure equal rights for black citizens—just 29 percent of black cops agree.
The attitudes and disparities this poll reveals, and the enormous problems they create within departments, weren't created in a vacuum. Neither was the antipathy toward police in minority communitiws. It grew out of long-standing grievances, supported by advances in technology that subjected police to unprecedented scrutiny. That scrutiny has shown—over and over, as an investigation by BuzzFeed news revealed this week—that police lie, and those lies are tacitly endorsed by departments that don't have the will or institutional momentum to do anything about it until public embarrassment forces them to.
Unchecked, this atmosphere of lies and obfuscation becomes corrosive and pervades entire departments. Take, for instance, what the the Justice Department Civil Rights Division found regarding the Chicago Police Department's infamous "code of silence":
This code is apparently strong enough to incite officers to lie even when they have little to lose by telling the truth. In one such instance, an officer opted to lie and risk his career when he accidentally discharged his pepper spray while dining in a restaurant—a violation that otherwise merits minor discipline. Even more telling are the many examples where officers who simply witness misconduct and face no discipline by telling the truth choose instead to risk their careers to lie for another officer. We similarly found instances of supervisors lying to prevent IPRA from even investigating misconduct, such as the case discussed elsewhere in this Report in which a lieutenant provided a video to IPRA but recommended that the case be handled with nondisciplinary intervention rather than investigated, describing the video as only depicting the use of "foul language" and affirmatively denying that it contained any inflammatory language or that the victim made any complaints — both patently false statements as demonstrated by the video.
But instead of doing something constructive, Trump is blithely endorsing a counter-narrative that will do nothing but try and say the underlying problem doesn't exist. And now he has the imprimatur of the White House.