Majority of States Lack Transparency on Asset Forfeiture
Want to know how much stuff police are seizing from people and where all that money goes? Good luck.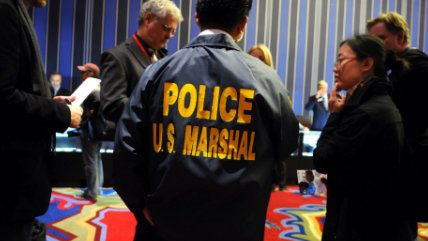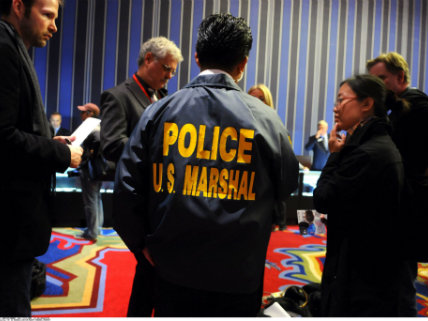 Asset forfeiture programs in the majority of states across the country suffer from a lack of transparency and accountability, leaving the public in the dark about how much property police seize from citizens and where those proceeds go, the Institute for Justice, a libertarian-leaning public interest law firm, said in a report released Tuesday.
According to the report, 26 states have little to no transparency requirements surrounding asset forfeiture, and 14 of those states "do not appear to require any form of property tracking, leaving in doubt even such basic questions as what was seized and how much it was worth, who seized it, when it was seized, where it was seized, and why it was seized." The rest of the states aren't much better.
In recent years, there has been a bipartisan push to roll back civil forfeiture laws, which allow police to seize property suspected of being connected to a crime without ever convicting, or sometimes even charging, the owner. Law enforcement organizations say the laws allow them to target the illicit profits of drug traffickers and organized crime. However, civil liberties groups say the practice is heavily weighted against property owners, who must pay to challenge seizures in court, and creates perverse profit incentives police.
How much money police departments seize, and what they do with it, is a critical question for anyone trying to get a handle on the scope of asset forfeiture. However, while many states have passed bipartisan laws strengthening due process protections for property owners and limiting how police's ability to use forfeiture revenue to fund their departments, transparency requirements appear to have fallen by the wayside.
"Given the vast power forfeiture confers on law enforcement to take and keep property—often without a criminal charge, let alone a conviction—states should hold agencies to high standards of transparency and accountability," Angela C. Erickson, senior research analyst at IJ and co-author of the study, said in a statement. "Unfortunately, most states fail at one or more basic elements of forfeiture transparency."
In the Institute for Justice's graded report, no state received an "A." The best-performing state was Vermont, which received a "B+." Twenty-six states received a "D" or worse. The states were graded on how they tracked seizures, accounted for and audited forfeiture spending, whether they published annual reports, and how accessible forfeiture records are to the public.
Only the federal Department of Justice, which maintains a comprehensive database of seized assets, received an A grade. However, the Treasury Department received an F. The Institute for Justice recently filed a Freedom of Information Act lawsuit against the Treasury Department after the agency tried to charge the Institute more than $700,000 to see its asset forfeiture tracking database.
The Institute for Justice has filed numerous lawsuits against state, local, and federal agencies challenging asset forfeiture laws and practices.
In many states, policy analysts and journalists must file time-consuming public records requests to see just how much and what kind of property law enforcement is seizing. Even then, the records may be incomplete because the state doesn't actually track seized property or forfeiture revenues in a substantive way.
For example, the Arizona Center for Investigative Reporting published a report this week that found state law enforcement seized $200 million in personal property, nearly all of it cash, but "regulation of the program is inconsistent, and the reports designed to inform government officials about how and when the money is used are often missing data":
After analyzing more than 1,300 quarterly financial reports filed by agencies detailing seizures and expenditures from fiscal years 2011 through 2015, AZCIR found that the state commission tasked with compiling statewide civil asset forfeiture figures omitted roughly $20 million, or 16 percent of overall spending, from its reports.

Vague expenditure descriptions also keep the public in the dark about the program. Of what is reported, roughly half of the money spent went to pay police salaries and cover "other operating" expenses. While advocates argue this helps police departments deal with budget cuts, critics of the system say this creates a perverse set of incentives for both law enforcement agencies and the elected officials who set their budgets.

And when it comes to tracking what law enforcement agencies are seizing and from whom, virtually no data is available other than aggregate totals of the amounts seized.
In Mississippi where there are no reporting or tracking requirements, policy analysts for the state legislature found that the Mississippi Bureau of Narcotics, working with local police, seized $4 million in cash, along with cars, guns, and electronics in 2015. But those records did not include local police departments working independently from the Bureau of Narcotics. As I reported earlier this month, tucked in the records were court cases showing Mississippi law enforcement also seized items like furniture and comic book collections.
The Mississippi state legislature is expected to introduce legislation this year that would create new tracking and reporting requirements. The Institute for Justice currently gives the state an "F" grade for its asset forfeiture transparency.
And as I reported last year, records obtained by the Illinois chapter of the American Civil Liberties Union showed Illinois police seizing video game consoles, "179 bottles of miscellaneous soap and shampoo," a cordless drill and stapler, and a statue of Jesus Malverde, a Robin Hood-esque Mexican folk saint popular among drug runners.
An investigation by Chicago Reader last year found the Chicago Police Department raked in $72 million since 2009 in civil forfeiture revenues, using it as an off-the-books revenue stream to fund surveillance activities for its narcotics unit.
"By itself, improved transparency cannot fix the fundamental problems with civil forfeiture—namely, the property rights abuses it permits and the temptation it creates to police for profit," Darpana Sheth, an Institute for Justice attorney, said in a statement. "Transparency is no substitute for comprehensive forfeiture reform, but it is still vitally important for bringing forfeiture activity and spending into the light of day."