Fordham U. Bans Pro-Palestinian Student Group Because of Its 'Political Goals'
Provocative political activism of the left-wing variety faces a free speech challenge.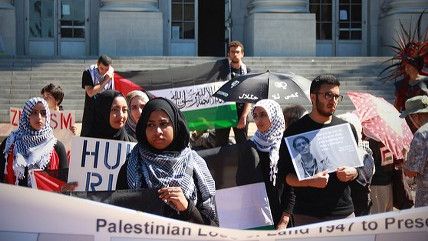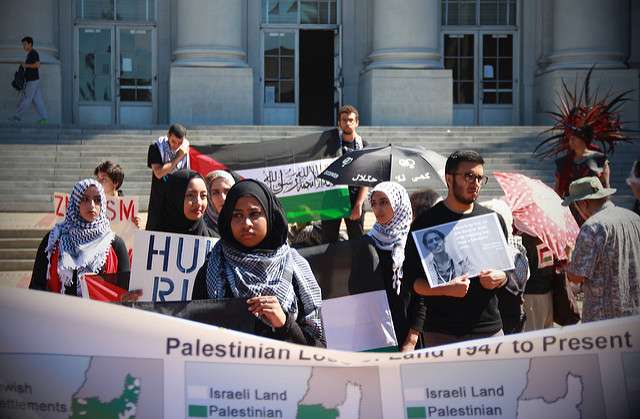 Fordham University—a private Jesuit institution in New York City—has denied Students for Justice in Palestine (SJP) the ability to form a chapter on the school's campus, citing the group's politics as the primary reason for the refusal.
In a letter to the group's applicants, the dean of students of the school's Manhattan campus Keith Eldredge wrote, "I cannot support an organization whose sole purpose is advocating political goals of a specific group, and against a specific country." Eldredge is referring to SJP's support of the Boycott Divest Sanction (BDS) movement against Israel, which Eldredge wrote is "barrier to open dialogue and mutual learning and understanding."
The Center for Constitutional Rights and the legal advocacy group Palestine Legal responded with a letter of their own, where they argued "The denial violates free speech and association principles, the University's commitment to protect free inquiry, and could give rise to a violation of Title VI of the Civil Rights Act."
Like many political student groups SJP engages in deliberately provocative speech, such as setting up "Apartheid walks" and mock Israeli checkpoints on campus. But the singling out of pro-Palestinian/anti-Israeli viewpoints as beyond the pale of acceptable speech is a growing phenomenon, with even the U.S. Senate passing the "Anti-Semitism Awareness Act" that essentially criminalizes harsh criticism of Israel on college campuses.
While Fordham is a private school and thus not required to abide by the First Amendment, Ari Cohn of The Foundation for Individual Rights (FIRE) tells Inside Higher Ed, "the justification for denying SJP recognition is completely without merit and cannot stand at any university that proclaims that it values freedom of expression, which Fordham's written policies do." Also from Inside Higher Ed:
Cohn noted that Fordham has chapters of the College Democrats and College Republicans, both of which advocate for specific political goals. "The fact that the group [SJP] is oriented toward advocating a specific political viewpoint is not out of the ordinary, and student organizations at every campus across the country do just that," Cohn said. "It's a little bit baffling to see that justification used to deny a student organization recognition."
As I've noted here at Reason, it's not just the left seeking to legislate acceptable discourse on campus, and as a cause generally associated with the left, pro-Palestinian activism's increasing marginalization on campus is a healthy reminder that free speech is meant to protect unpopular viewpoints, not ones that enjoy universal acceptance.