Cancer Moonshot Misses the Mark
The lifetime risk of cancer for American men is 1 in 2. For women it's 1 in 3.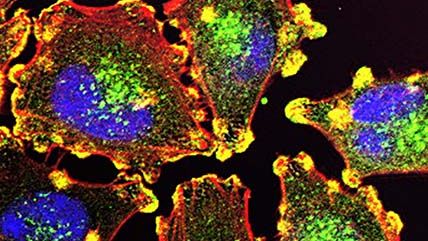 (National Institutes of Health)
In 1971, Richard Nixon vowed "a national commitment for the conquest of cancer" as he signed the law establishing the National Cancer Institute (NCI). Forty-five years later, Barack Obama declared in his 2016 State of the Union address that our country would embark upon a "new moonshot" with the aim of making "America the country that cures cancer once and for all"; Vice President Joe Biden would be in charge of "mission control." In its October 17, 2016, report, the Cancer Moonshot Task Force declared that its goal is "to make a decade's worth of progress in preventing, diagnosing, and treating cancer in just 5 years."
How? The usual federal bureaucratic efforts of "catalyzing," "leveraging," and "targeting" are promised. But there is some meat to the proposals. For example, the NCI is creating a pre-approved "formulary" of promising therapeutic compounds from 30 pharmaceutical companies that will make them immediately available to researchers. In addition, the task force aims to establish open science computational platforms to provide data to all researchers on successful and failed investigations, and a consortium of 12 leading biotech and pharmaceutical companies are working together to identify and validate biomarkers for response and resistance to cancer therapies.
Prevention is also a focus. The moonshot aims to save lives by boosting the colorectal cancer screening rate among Americans 50 and older and raising HPV vaccination rates for adolescents.
The lifetime risk of cancer for American men is 1 in 2. For women it's 1 in 3. So what would a decade's worth of progress look like? According to the latest American Cancer Society figures, the cancer death rate has dropped by 23 percent since 1991, translating into more than 1.7 million deaths averted through 2012. The five-year survival rate has also increased from 49 to 69 percent. Doubling progress might mean doubling the annual reduction in cancer death rates for men to 3.6 percent and for women to 2.8 percent. That would cut the number of Americans dying of cancer from about 600,000 per year now to just above 500,000 in 2021.
But progress may happen even faster than that. The most exciting recent therapeutic breakthrough is immunotherapy—a treatment where cancer patients' immune cells are unleashed as guided missiles to kill their cancer. "It's actually plausible that in 10 years we'll have curative therapies for most if not all human cancers," declared Gary Gilliland, president and director of the Fred Hutchinson Cancer Research Center, at a conference in 2015. The good news is that the cancer moonshot may end up trailing advances that have already taken off.
This article originally appeared in print under the headline "Cancer Moonshot Misses the Mark".