Trump Asks If We're Living In Nazi Germany, Violent Crime Up in 2016, Obama Says Goodbye: A.M. Links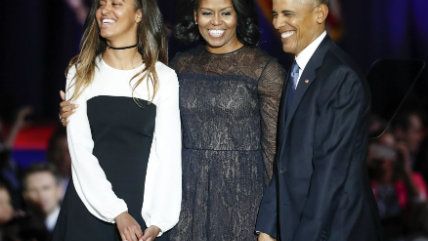 (KAMIL KRZACZYNSKI/EPA/Newscom )
FAKE NEWS - A TOTAL POLITICAL WITCH HUNT!

— Donald J. Trump (@realDonaldTrump) January 11, 2017
Intelligence agencies should never have allowed this fake news to "leak" into the public. One last shot at me.Are we living in Nazi Germany?

— Donald J. Trump (@realDonaldTrump) January 11, 2017
In response to a Buzzfeed report that president-elect Donald Trump is sexually aroused by pee and Russia knows it, Trump took to Twitter to declare it "FAKE NEWS" and ponder whether we're living in Nazi Germany. Trump also tweeted that "Russia has never tried to use leverage over me. I HAVE NOTHING TO DO WITH RUSSIA - NO DEALS, NO LOANS, NO NOTHING! … I win an election easily, a great "movement" is verified, and crooked opponents try to belittle our victory with FAKE NEWS. A sorry state!"

KAMIL KRZACZYNSKI/EPA/Newscom

President Obama gave his farewell address to the nation last night, brandishing an inflated sense of his administration's accomplishments that was, regardless, overshadowed by everyone talking about Trump and urine. Read the whole speech here; read Robby Soave on the speech here.

A measure that would've put $80 million into a new St. Louis soccer stadium will not move forward.
Violent crime was up, property crime down in the first half of 2016, according to new federal data.
Edward Snowden is pleading with President Obama to pardon Chelsea Manning before he leaves office.
Confirmation hearings for Exxon Mobil CEO Rex Tillerson, Trump's pick for Secretary of State, begin this morning.
Follow us on Facebook and Twitter, and don't forget to sign up for Reason's daily updates for more content.