Watch Tampa Police Arrest Activists for Feeding the Homeless Without a Permit
Outlaw quinoa runs rampant in Tampa.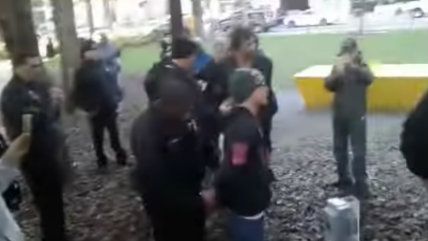 Tampa police officers arrested seven Food Not Bombs members on Saturday for the vile crime of providing hot meals to the homeless without a permit.
According to the Tampa Bay Times, Tampa police had earlier warned the local chapter of Food Not Bombs that they needed a facility use permit to set up in a public park. The local activists say the paperwork for such a permit is ridiculous and requires liability insurance coverage of $1 million. Just to feed the homeless. They refused to comply, and while they were serving up some tasty quinoa and mushrooms, police began arresting them.
Watch video of the arrests:
"We warned them: You set up table, chairs and everything, that's against ordinance," a police spokesman told the Tampa Bay Times. "We told them exactly what would happen. And that's exactly what happened."
The seven activists were ticketed and released. In a statement to local media, the Food Not Bombs chapter said they have no intention of shutting down.
"[Food Not Bombs] has no plans to stop sharing food with the homeless and hungry and will continue to defy unjust laws that criminalize compassion and mutual aid," the group said. "We intend to expose the city's cruelty in the face of thousands in our community who are struggling with issues of food insecurity, mental and medical health issues, poverty, and homelessness."
The local outlet SaintPetersBlog reports the city has a history of shutting down rogue Samaritans:
This isn't the first time that the police have cracked down on public feedings of the homeless in the Bob Buckhorn administration. Months into his first term in 2011, police stopped a group who had been feeding the homeless for six years. Buckhorn's predecessor, Pam Iorio, had her own run-ins with Food Not Bombs back in 2004, when the group fed the homeless at Herman Massey Park.
Reason has been on the outlaw food beat for years now. Read more about San Antonio, Dallas, and Ft. Lauderdale cracking down on providing food to the homeless.