Queen Mary University Students Want to Ban Newspapers in the Name of 'Diversity and Inclusivity'
Tabloids say mean things. We can't have that.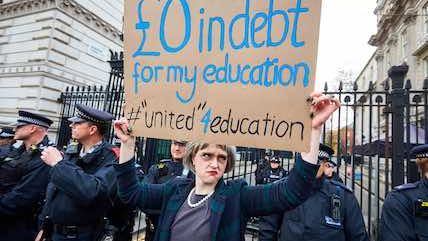 (Cliff Hide/ZUMA Press/Newscom)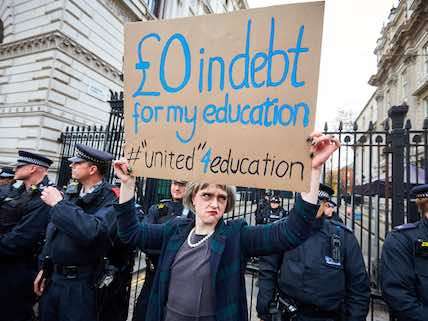 Either I'm really wrong about the definitions of diversity and inclusivity, or Queen Mary University (QMUL) students are.
Recently, the Student Union at Queen Mary—a public research university in London—approved a motion to prohibit the sales of tabloid newspapers on campus. The Sun, Daily Mail, and Express contain viewpoints that are "hateful" toward refugees, immigrants, and other marginalized groups, and therefore, no one should be able to read them.
"The Union should continue to stand by its mission, vision and values such as 'diversity and inclusivity,'" the motion states, according to The Tab.
Confused as to how diversity is well-served by reducing the number of acceptable publications on campus? Me too.
The motion does not carry actual weight: university officials would have to agree to enforce it. Nor does it stop students from bringing copies of the verboten papers onto campus. The motion is merely "a commercial boycott that will ensure the Union does not profit from the sale of these newspapers."
Queen Mary's Student Union is not the first to take this step. City University's Student Union recently approved a similar ban on tabloids.
Dissident QMUL student Emily Dinsmore described the Student Union representatives as "medieval cardinals" in an article for Spiked:
The council meeting had a staggering turnout of 25 student representatives. Complete with jazz hands to replace clapping – clapping can trigger distress, apparently – the gathering voted 13-3 in favour of the proposed motion to ban the sale of papers that contain 'hateful discourse'. The other council members awkwardly chose to abstain from the vote. Cowards.

The representatives claimed that, as the elected spokespeople for QMUL students, they have a mandate to ban the sale of tabloids. One assured us that this motion is 'supported by an array of migrant-solidarity, refugee-action and international student groups'. Notably, however, not a single one of these talked-up minority groups turned up to defend the motion.
The idea that diversity and inclusivity are promoted when alternative points of view are silenced is positively Orwellian. How far college campuses have fallen: they are supposed to be places where bright minds gather to consider new information and gain insight. Instead, they are bastions of censorship—censorship committed in the name of protecting the vulnerable and marginalized.