Butch Otter Still Opposes Legalizing CBD Oil; Uses Hyperbole to Explain Why
Otter had a chance to sign a CBD oil bill for Idaho in April 2015, but he vetoed it. He is still the only governor in the country to veto such a bill.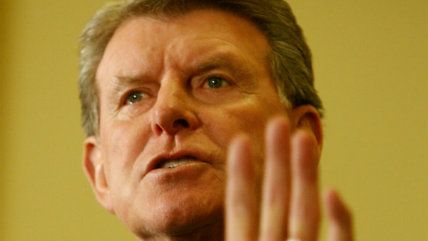 In November, my first feature story for Reason profiled a young man from Idaho who suffers from intractable seizures and asked why Butch Otter, the state's governor, did not help him when he had the chance.
That young man is Josh Phillips, and he has been suffering from uncontrollable seizures since he was 10 years old. He's tried dozens of different drugs, but none have helped him. Out of other options, Josh and his family believe a marijuana-derived substance called Cannabidiol oil, or CBD oil, might offer some relief. It's worked for some people suffering from similar ailments in states where CBD is legal, including 17 states that don't have medical marijuana laws but have passed narrower CBD oil bills.
Otter had a chance to sign a CBD oil bill for Idaho in April 2015, but he vetoed it. He is still the only governor in the country to veto such a bill.
It's possible that the state legislature will give Otter another chance to sign a CBD oil bill this year, but the governor on Friday reiterated his opposition. During a press conference in Boise, Otter told reporters that there had been no change in his view on the subject.
The real change is between Otter's view today and the view he held for most of his political career. As my story noted, Otter had been a proponent of marijuana legalization for decades—from way back when he first broke into politics in the 1970s, through his successful run for governor in 2006.
There's a few different reasons why Otter seems to have changed his mind—lobbyists for law enforcement groups and pharmaceutical companies seem to have played a significant role, Reason's investigation found—but the most important consequence of his decision is that people in Idaho suffering from intractable seizures are left with fewer choices when it comes to treatment.
Otter had, after vetoing the CBD oil bill, issued an executive order creating a clinical trial for a drug called Epidiolex, which is produced by a British pharmaceutical company trying to gain FDA approval to sell the drug in the United States. The drug is basically a synthetic version of CBD, but Otter's team preferred the clinical trial because it was more standardized and controlled than CBD oil.
On Friday, Otter said the clinical trial is showing that there is "sufficient relief in many cases."
That's good news for the children who got into the Epidiolex trials—the program was capped at 25 kids (the Otter administration later lifted the cap to 38 children)—but does nothing to help anyone who unable to get into the trial or anyone who was over 18, like Josh Phillips, who will turn 20 next month.
It also doesn't help Katie Donahue, an Idaho resident who says she literally has prayed for death because she can't find a way to treat her seizures.
"I am deeply saddened at the freedom Butch Otter continues to deny extremely ill Idahoans," Donahue said in a statement provided to Reason on Friday. "I am devastated for the children who will continue forced suffering from diseases as well as stigma. I am sickened to think of families from other states having success with cannabinoid therapy not being able to experience the beauty of Idaho because freedom has been replaced with fascism."
While we're picking apart Otter's comments, there's one more thing he said Friday that deserves some scrutiny, because it speaks to his administration's overall approach to medical marijuana.
Without being asked, Otter launched into an explanation of why he opposes medical marijuana (around the 1:30 mark of the audio file above). Like his spokesman did in responding to questions from Reason two months ago, Otter referenced a conversation with a governor of another state (without giving a name) who supposedly told Otter that medical marijuana was "a disaster."
"Almost anybody who goes into the doctor with a hangnail in some of those states can get a medical marijuana card," Otter claimed.
That's obvious hyperbole, but trying to argue with Otter over those details misses the more important point.
In March 2015, Otter wasn't asked to legalize medical marijuana (though if he had been, given his history of support for marijuana, it would still have been a surprise for him not to sign the bill). He wasn't asked to change state policy so anyone with a hangnail could get marijuana. He wasn't even asked to legalize medical marijuana for people suffering from intractable seizures.
No. He was given a bill that would have, in narrow terms, legalized one specific marijuana derivative that lacks the ability to get anyone high (because CBD oil contains no THC, the psychoactive component of marijuana) and would have allowed one specific group of people—residents of Idaho with intractable seizures—to access that product by getting permission from their doctors.
That's hardly the same as letting "anybody who goes to the doctor with a hangnail" get high. It's not even in the same universe, as a matter of policy. Pretending otherwise is nothing more than an attempt at obscuring the details of the CBD oil bill.
That's exactly what law enforcement lobbyists in Idaho tried to do in 2015, using similarly hyperbolic language to describe what legislation would mean. "It basically opens the door, carte blanche, to make it almost unenforceable for us to be able to stop marijuana or illegal drugs in our communities," said Shane Turman, president of the Idaho Chiefs of Police Association, at a hearing of the state Senate State Affairs Committee concerning the CBD oil bill in March 2015.
Otter shouldn't fall for that nonsense, and he certainly shouldn't be repeating it on-the-record.
State governments from coast to coast have implemented much broader medical marijuana policies than the one proposed in Idaho. It's amazing that someone who once told Reason "If a person, of his own free will, wants to use marijuana, I question whether the government has any propriety in telling him he can't," now believes the government should insert itself into the heath care decisions of people who are suffering so greatly.