Hate Crime Charges in Man's Kidnapping, Clapper Defends Intel on Hacking, Coats to Replace Clapper: P.M. Links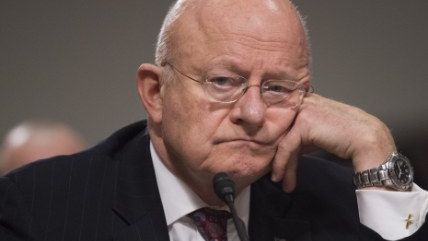 (Kevin Dietsch/UPI/Newscom)
Kevin Dietsch/UPI/Newscom

The four people, all black, arrested in Chicago in connection with the livestreamed beating and abuse of a mentally disabled white man, have been charged with hate crimes (and a host of other charges). Police initially said they weren't sure that the victim was actually targeted because he was white, despite the comments captured on the video.

Defending their report that Russia was responsible for hacking and releasing information from the Democratic Party to attempt to influence the presidential election, Director of National Intelligence James Clapper responded to President-elect Donald Trump's general dismissal of the evidence by saying there's a difference between being "skeptical" and "disparaging" the intel community. Their unclassified report explaining the hack will be publicly released next week.
Former Sen. Dan Coats (R-Indiana) is going to succeed Clapper, according to sources talking to several different media outlets. Coats is a notable supporter of mass surveillance authorities, so that should be taken as an indicator of the incoming administration's attitude.
Trump was deposed today—the legal kind of deposed, not the political one—to answer questions about a lawsuit connected to a chef who backed out of plans to open a restaurant in one of his hotels.
Today's argument for school choice: A principal in Kentucky took students' phones and then sold any pornographic images he found on them (meaning the pics were of teens).
Sears is joining Macy's in closing a bunch of stores. Sears Holding will be shutting 150 Kmart and Sears locations in 40 states.
The union for the United States Postal Service has managed to force Staples to end its program where non-union private employees of the office supply store provided mail services.
Today's hiliariously embarassing media outlet mistake.
Follow us on Facebook and Twitter, and don't forget to sign up for Reason's daily updates for more content.