Trump Believes Assange, Schumer Promises Payback Over SCOTUS Pick, Huckabee Doesn't Think Israel is Occupying the West Bank: A.M. Links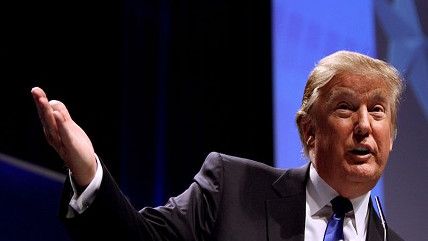 (Gage Skidmore/Wikimedia Commons)
Gage Skidmore/Wikimedia Commons

President-elect Donald Trump says he believes WikiLeaks' Julian Assange's claim that the Russian government was not the source of the leaked DNC emails.

Sen. Charles Schumer (D-N.Y.) has promised to make things difficult for any Supreme Court nominee Trump puts forth.
Fmr. Gov. Mike Huckabee (R-Ak.) rejects the idea that Israel is occupying the West Bank, saying "There is no such thing as a West Bank…There's no such thing as an occupation."
A North Carolina female high school student was brutally slammed to the ground by a school resource officer. The incident was captured on video, the girl was reportedly trying to break up a fight between two other girls.
Mariah Carey is blaming Dick Clark Productions for her disastrous New Year's Eve performance, even though Carey reportedly declined to do a soundcheck beforehand.
Notorious mass murderer and erstwhile cult leader Charles Manson is "seriously ill."