Despite Ban, New York City Had More Airbnb Rentals Than Anywhere Else in the World on New Years Eve
City officials should learn that Airbnb and other short term rental services can't be legislated out of existence.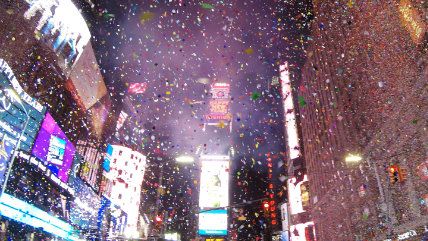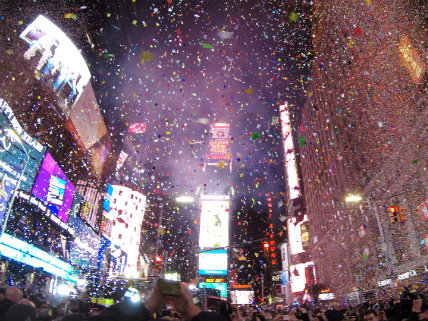 Despite a ban on advertising short-term rentals that comes with heavy punishments for anyone who tries, New York City had more Airbnb rentals than any other location in the world on New Year's Eve.
The San Francisco-based short term rental service told the New York Daily News that there were more than 55,000 rentals in the city on the final night of 2016, up from about 47,000 on last New Year's Eve. There were more Airbnb rentals in New York City than anywhere else on the globe as 2016 became 2017.
With perhaps the most famous New Year's Eve celebration in the entire world, it's no surprise that people flocked to the Big Apple on December 31, but the number of people using Airbnb in defiance of the city's ban should make officials question that policy and will likely upset hotel executive who pushed for the ban in order to limit competition.
The real heroes, though, are the residents of the city who flouted a silly law and risked fines of up to $7,500 for doing so. New York officials have promised to use the Airbnb ban to crack down on what they call "illegal hotels"—that is, locations used exclusively for short-term rentals year-round—rather than going after residents who rented-out their apartments or homes for the holiday weekend.
The only beneficiaries of New York's ban on Airbnb rentals are the city's hotels—which, naturally, were the driving force behind the passage of the ban in the first place. That's why hotel executives were toasting the ban after it passed.
In reality, though, the ban helps prop-up one of the worst hotels in America by giving tourists fewer, better options.
As New Year's Eve shows, visitors to The Big Apple are looking for other options and residents of the city are willing to freely exchange their space for money. Aside from protecting users against fraud and violance, there's little reason for the government to be involved in those transactions.
The lesson that city officials should take from all this is that Airbnb (and other short term rental services like VRBO and Home Away) can't be legislated out of existence. Visitors to New York, or any other city, have more lodging options than ever before—that's a good thing—and the marketplace is only going to get more diverse in the future.
Instead of fighting that tide, city planners should look for ways to accommodate new forms of accommodations.