U.S. Boots Russian Operatives, GOP Unhappy About New Western Monuments, Stats on Police Ambushes for 2016: P.M. Links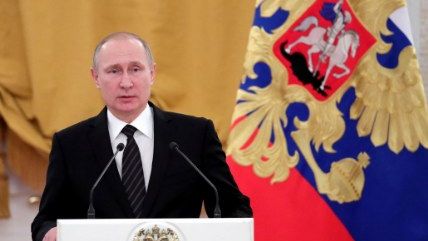 (Kremlin Pool/ZUMA Press/Newscom)
Kremlin Pool/ZUMA Press/Newscom

The White House announced its punishment for Russia's alleged "meddling" with the election by hacking and releasing communications within the Democratic Party. The United States is booting 35 Russian intel operatives from the country and imposing sanctions on Russian intelligence agencies. The administration believes the Russians maintain a spying base in Maryland.

Sikhs who work within the New York Police Department will be allowed to keep their beards and wear turbans.
The libraries at the University of Kansas are giving out buttons to employees and students that indicate which gender by which they'd like to be referred.
Philippine President Rodrigo Duterte said he thinks U.S. envoys to his country are in cahoots with the CIA to undermine his leadership.
Republicans are not happy about the two national monuments President Barack Obama designated in Nevada and Utah.
According to number-crunching by the National Law Enforcement Officers Memorial Fund, 2016 saw the greatest number of police killed in ambushes in two decades.
Follow us on Facebook and Twitter, and don't forget to sign up for Reason's daily updates for more content.