Carrie Fisher's Death Closes Out a Grim 2016, Defending 'White Genocide' Professor: P.M. Links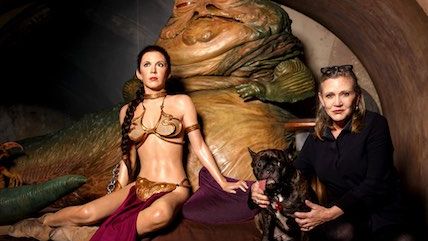 (Brian Jordan/ZUMA Press/Newscom)
Brian Jordan/ZUMA Press/Newscom

Actress and author Carrie Fisher, who portrayed Princess Leia in the original Star Wars movies and 2015's The Force Awakens, has died. It strikes me that Leia was one of the first fictional characters from my childhood whose goal was to overthrow a tyrannical government and put an end to its destructive public works projects. She will be missed.

It sure feels like 2016 has been a particularly grim year for celebrity deaths.
Thomas Sowell has announced his retirement.
The case against the Universal Basic Income.
An unqualified defense of the "white genocide" Drexel University professor.
The Israeli ambassador has threatened to give information to President-Elect Trump about President Obama's complicity in the UN vote.