IMF's Christine Lagarde Found Guilty of Misusing Public Funds
Her resignation cannot come too soon.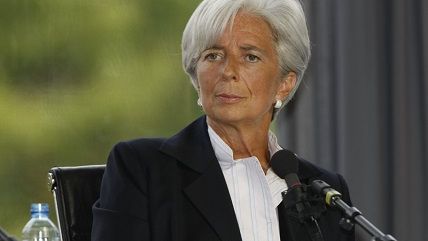 In yet another blow to the world's great and good, a special court in France found on Monday that the current managing director of the International Monetary Fund (IMF) and former French minister of finance, Christine Lagarde, was guilty of criminal charges linked to the misuse of public funds. According to the news reports, "The case against Ms. Lagarde centered on Bernard Tapie [who] accused the lender Crédit Lyonnais, in which the French state had a stake at the time, of cheating him when it oversaw the sale of his share in the sportswear empire [Adidas] in 1993. Years of costly legal battles ensued. In 2007, Ms. Lagarde sent the dispute to a three-person private arbitration authority that awarded Mr. Tapie more than 400 million euros, or $420 million at current exchange rates, in damages and interest, to be paid by the state."
If Lagarde resigns from her IMF job, she will follow in the footsteps Dominique Strauss-Kahn, the previous IMF head and, incredibly, another former French finance minister, who resigned in 2011, after he was accused of having sexually assaulted a maid in a New York City hotel. Lagarde's resignation cannot come too soon. She was, in large part, responsible for the Greek bailout, which has, so far, failed to tackle that country's economic problems. As one observer noted, "In Greece, the IMF violated its own cardinal rule by signing off on a bailout in 2010 even though it could offer no assurance that the package would bring the country's debts under control or clear the way for recovery, and many suspected from the start that it was doomed."
As the IMF head, Lagarde all too often appeared to act as a defender of the interests of the Eurozone (i.e., preserving Greece in Europe's failing single currency area), rather than as a steward of the IMF's global shareholders. As an indication of the IMF's effectiveness in helping Greece out of its economic troubles, consider the state of the Greek economy after years of international "assistance."