Obamacare's Subsidies to Cost Taxpayers an Extra $10 Billion in 2017
As premiums rise sharply, the public covers much of the cost.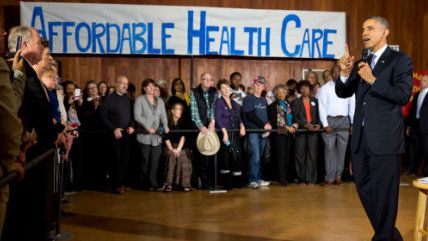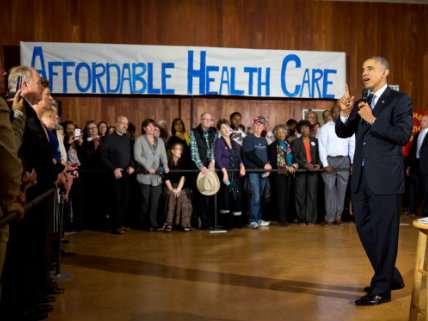 Earlier this year, the Obama administration published a report saying that a typical health insurance plan bought through Obamacare's exchanges would rise in price by about 22 percent this coming year. Administration officials responded by downplaying concerns about rising premiums, noting that most consumers would be largely insulated from those increases by the law's subsidies, which increase with the price of insurance.
The increased cost of insurance under the law, in other words, would be born by consumers rather than taxpayers. We now have a price tag showing exactly how much those higher premiums will cost the public. The government will spend nearly $10 billion more this year, rising from about $32.8 billion in 2016 to about $42.6 billion in 2017, a 28 percent hike. The average monthly subsidy will rise from $291 per month to $367.
Those numbers come from a new report by the nonpartisan Center for Health and Economy, which used government data in combination with the organization's own subsidy estimates in order to produce the findings.
Thanks to far lower than expected enrollment, the total cost of Obamacare has come in lower than expected. But that cuts both ways, because the lower than expected enrollment is part of what's driving premium hikes. And what we see with this year's premium hikes is that the price tag of subsidizing those people who are signed up is rising rapidly—at significant public cost. Those people are only insulated from premium hikes because taxpayers are footing the bill.
And not everyone, of course, is insulated. A little more than 20 percent of enrollees in Obamacare's exchanges don't get any sort of subsidy at all, meaning they bear the full cost of any premium increases.
The report comes as Republicans have vowed to make repealing Obamacare a top priority after Donald Trump takes the White House in January. And it hints at some of the potential difficulties of repeal: Republicans in Congress have made it clear they favor a "repeal and delay" strategy in which Obamacare repeal legislation is signed quickly, but leaves the law's major components on the books for a number of years. That could accelerate the unwinding of the health insurance marketplaces, and perhaps lead to even higher premiums in the short term for those who maintain coverage under the law.
In the meantime, though, it also shows the sorts of struggles the law is having with rising costs to both taxpayers and consumers, and adds to the evidence that Obamacare in its current form cannot maintain a stable equilibrium.