Man Told to Leave Six Flags Because He Looked Too Much Like Santa Claus
The park does not allow unapproved individuals to interact with children.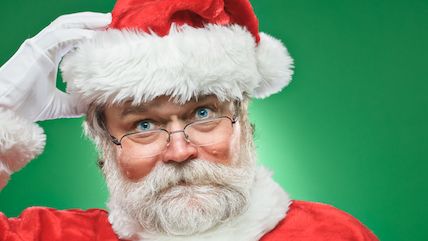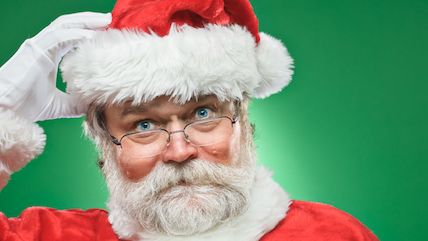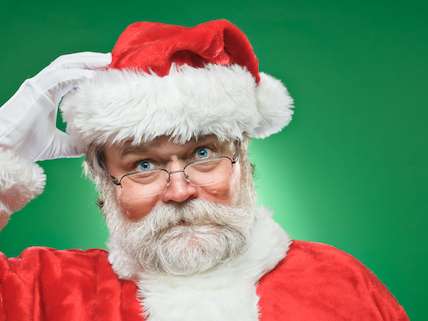 A man who looks too much like Santa was forced to leave Six Flags in Arlington, Texas, because the park does not "knowingly allow individuals who are not approved by the park to interact with small children in this capacity."
What disgusting thing had the man, Jerry Henderson, done? CBSDFW reports that a mom walking by had asked him to pose for a picture with her kids, and Henderson cheerfully complied:
"[I] knelt down, put my arms around them, and afterward I reached in my wife's walker, pulled out two candy canes, handed it to them," recalled Henderson.
Since when do we allow any male to put his arm around any child, even if his wife is there, even if the kids' mom is there, even if he has a belly that shakes when he laughs like a bowl full of jelly?
Since never. Think of the children. A stranger touched them for several seconds. They may never recover.
Sorry, St. Nick, but the only behavior males should exhibit around children is stony-faced oblivion while running in the opposite direction.
Having behaved like a jolly old elf, Henderson says he was approached by park security official, who told him he had to leave.
I said, 'For what reason?' He said, 'You look too much like Santa Claus.' And I'm like, 'Are you kidding me?'"
Mr. Henderson, the authorities do not joke about Christmas. Christmas is a very serious matter, best celebrated with a few background-checked relatives, preferably female. And no gifts, either. (Grooming.)
For safety's sake, Mr. Henderson, ideally you should spend the holiday by yourself, away from all living things, except maybe your wife, in a room with a security camera. And kill the beard.
Merry Christmas to all (except adult males)!