A.M. Links: Obama Says Trump Team Has 'Very Clear' Ties to Russia, U.N. Reports 'Complete Meltdown of Humanity' in Aleppo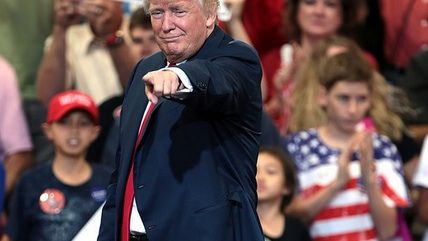 Gage Skidmore / Flickr.com

Donald Trump says that he will transfer control of his businesses over to his sons before he takes the oath of office.

"The overseers of the U.S. intelligence community have not embraced a CIA assessment that Russian cyber attacks were aimed at helping Republican President-elect Donald Trump win the 2016 election, three American officials said on Monday."
Barack Obama: There are "very clear relationships between members of the president-elect's campaign team and Russians."
"Pro-government forces retaking the eastern neighborhoods of the besieged Syrian city of Aleppo have killed at least 82 civilians, the United Nations estimated on Tuesday, in what one official called 'a complete meltdown of humanity.'"
Comet Ping Pong shooter Edgar Maddison Welch is due in court today.
Colorado marijuana businesses have sold more than $1 billion in legal cannabis so far this year.
Follow us on Facebook and Twitter, and don't forget to sign up for Reason's daily updates for more content.