Movie Review: La La Land
Ryan Gosling and Emma Stone in a lush new kind of movie musical.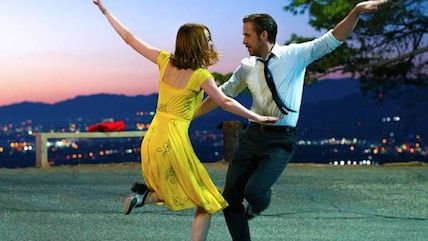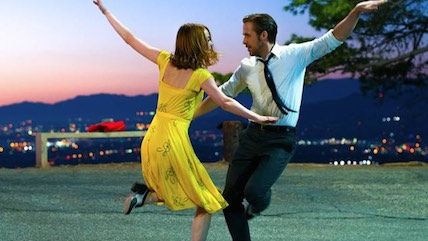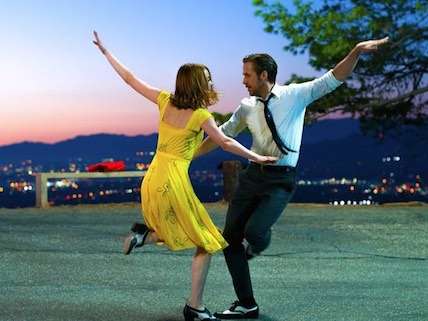 Damien Chazelle's La La Land takes the standard objection to movie musicals—Why are all these people suddenly bursting into song?—and confronts it head-on in its opening scene. We see one of those from-here-to-the-horizon traffic jams on an L.A. freeway, with trapped motorists muttering in the sun. Then one woman starts singing. Then she's joined by others as they climb out of their cars and begin dancing around and on top of them. Why are they doing this? Well, when they allow the director to pack so much intricate Steadicam invention and sky-high musical energy into a single six-minute take, why should they not?
The movie is high on the spirits of classic Hollywood musicals (especially of the Gene Kelly variety) and subsequent French riffs on the form by Jacques Demy (in whose 1967 The Young Girls of Rochefort Kelly also featured). The picture is set in the here and now, but it feels very much like the there-and-then.
That tuneful traffic nightmare at the beginning introduces us to the lead characters, already getting on each other's nerves. Purist jazz musician Sebastian (Ryan Gosling) is honking his horn behind aspiring actress Mia (Emma Stone). When the jam breaks and he pulls around her car, glowering, she gives him the finger. Later, when he comes into the coffee shop on the Warner Bros. lot where Mia unhappily slaves, her presence doesn't even register with him. Later still, she comes upon Sebastian in a lounge where he's glumly playing background piano; when the manager (J.K. Simmons, who won an Oscar for his jazzman in Chazelle's Whiplash) fires him for slipping an original tune into his set, Sebastian leaves in a huff, brushing past Mia with no recognition.
Clearly, these two are meant to be together, and Chazelle, who also wrote the script, isn't going to stand in their way. Since both characters are a little beaten-down—Mia by endless rounds of humiliating acting auditions, Sebastian by his inability to land a dignified gig ("I'm letting life hit me until it gets tired," he says)—the director surrounds them with spectacular song-and-dance scenes that rise up out of the story like exhalations of pure joy. In one of them, getting ready for a party at the house they share, Mia and her three roommates negotiate the complex arrangement of a song called "Someone in the Crowd" as if it were not at all incredibly difficult to do; then they march it out into the street. It's a sequence that recalls any number of other classic musicals, but also feels classic in its own right.
The movie's first real show-stopper, though, is a twilight scene, set to a song called "A Lovely Night," in which Sebastian and Mia tentatively come together, protesting all the way. ("You're not the type for me," he sings. "I'm frankly feeling nothing," she insists). The setting is an overlook high above L.A., with the city spread out below like a field of stars. Gosling nudges things off with a casual lamppost swing (the famous Gene Kelly move from Singin' in the Rain), then joins Stone for a nifty little sitting-on-a-bench dance, then a bit of tap-and-slide—and by then, like them, you're hooked: the movie's lush and unblushing romanticism has drawn you in.
Linus Sandgren's cinematography wraps the movie in swooning atmosphere: the interiors have a warm, pulsing glow, and the exteriors appear to have been shot in some sort of perpetual, salmon-skied Golden Hour—especially the scene in which Gosling strolls the Hermosa Beach Pier singing a melancholy ballad called "City of Stars." (The movie's original songs are mostly by composer Justin Hurwitz and lyricists Benj Pasek and Justin Paul.)
We know that love has taken hold when Sebastian and Mia duck into an old-fashioned movie theater to catch a showing of the 1955 Rebel Without a Cause. We see their fingers intertwining in the dark, and then watch as they make their way up to the Griffith Observatory—site of one of Rebel's most famous scenes—where they begin to dance, and Sebastian lifts Mia up and she slowly floats away. Soon they're both dancing on clouds, silhouetted among the stars. Maybe I'm wrong, but I think only a puppy-kicker could fail to be moved by Chazelle's imagery here.
Another knockout scene—for different reasons—is the one in which Mia is braving her way through a new audition, this one for a movie role, improvising a story from her childhood for a small audience of evaluators. As the lights dim down, Stone sings the tale (she sang it live on set, straight through) and slowly, smashingly enlarges upon its meaning. It's a spellbinding performance.
Things perk along nicely for Sebastian and Mia—they really were made for each other, evidently. But what would a story like this be without complications? (One of them involves John Legend, in a strong turn as Sebastian's friend Keith, a more-successful fellow musician.) The last third of the film takes some unexpected turns, but the movie's romantic spell never lifts. And it's a tribute to Chazelle's distinctive talent that he's able to fashion the ending—which might have sunk a less meticulously crafted film—into the picture's most moving moment.