Reason TV More Than Doubled Its Audience Last Year. Here's Why.
Our annual webathon officially ended on Tuesday, but you can still make a tax-deductible donation that will help us reach millions more with libertarian videos.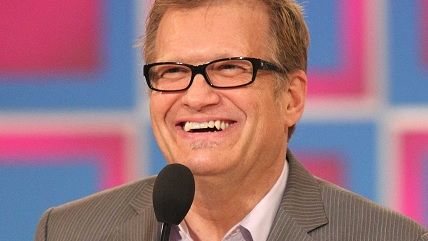 Founded in 2007 thanks to the vision and efforts of comedy legend and Price Is Right host Drew Carey, Reason TV is the web's leading source of online video from a principled libertarian perspective.
Over the past fiscal year (October 2015-September 2016), we more than doubled our audience, reaching well over 30 million viewers at our YouTube channel (subscribe here!) and our Facebook page (where we only count views that are 30 seconds or longer, to make sure that folks are accidentally scrolling past our content; if we included Facebook's default 3-second views, the total is over 50 million). In the nine years of our existence, we've won a number of prizes, have been two-time finalists for National Magazine Awards, and have even produced 3D-horror videos.
While our annual webathon, during which we ask loyal readers of Reason.com to support our efforts with fully tax-deductible donations, ended on Tuesday, you can still give us a gift and grab all sorts of swag depending on the amount (any amount is appreciated and goes directly to help us produce more print, web, and video content). Go here for info on all that.
And take a look at this small sampling of highlights from the more than 250 vids we released last year. You'll laugh, you'll cry, you'll get angry, you'll meet interesting people for the first time, you'll hear from leading libertarian thinkers and personalities—and hopefully you'll be moved to consider a gift to fund our next year's operations.
Here's fuller list of standout pieces, as pulled together by Reason TV's Managing Editor, Meredith Bragg.
Take sometime to watch them and if the spirit moves you, please donate to Reason.
DOCUMENTARIES

How Brazil's Libertarian Movement Helped Bring Down a President

Axanar: The $1 Million Star Trek Fan Film CBS Wants to Stop

Drop That Red Cup! City Criminalizes College Parties

When Prosecutors Withhold Information, Innocent People Go To Prison—or Worse

The $140 Mail-Order CRISPR Kit: Is Unregulated Biohacking the Future of Science?

Here's What Happened at the Libertarian National Convention

How High Would You Make the Minimum Wage? We Asked L.A. Residents.

How the President Can End Pot Prohibition Without Congress

#DrunkenSocialism vs. The State: How Virginia is Screwing over Bars, Customers, and Common Sense

Another Troubled City, Another Subsidized Stadium to the Rescue

Protesters Smoke Weed Outside of the White House

The Private Eye Trying to Prove an Innocent Man Was Sentenced to Death

Can Ethereum Restore Online Freedom & Transform the Internet?

Do College Students Hate Free Speech? Let's Ask Them.

VIRAL/COMEDY

Trump and Hillary vs. The Walking Dead

Star Trek: The Libertarian Edition

Hillary Clinton vs. James Comey: Email Scandal Supercut

A Milestone For Women In Politics: Libertarians Reflect on Hillary's Nomination

Katie Couric Responds to Deceptive Editing Charges in Gun Documentary

Super Delegates…To the Rescue (of Hillary Clinton)!

How California Will Legalize Pot in 2016: Learning The Lessons of Prop 19

INTERVIEWS

An AR-15 in Every Home: 3D Gun Printer Cody Wilson on Resistance, Trump, the Media, & More

'Your Tears Are Delicious and Your Parties Will Die,' Says Libertarian Party Chair Nicholas Sarwark

The Green Party's Jill Stein: Why Choose Between a 'Fascist' and a 'Warmonger'?

Mike Rowe Wears Trump's Robe, Fights a Drone, and Solves the Labor Shortage

Judge Andrew Napolitano on Election 2016 and Being a Pro-Life Libertarian

Penn Jillette on Donald Trump, Hillary Clinton, And Why He's All in on Gary Johnson

Gary Johnson and William Weld on Hillary, Trump, and Why You Should Vote Libertarian

The Secret Cyberwar is Here: Director Alex Gibney on 'Zero Days' Documentary, Stuxnet & Cyberweapons

When Everything is a Crime: Harvey Silverglate on the Overregulation of Ordinary Life

Making a Murderer's Jerry Buting on New Evidence, Reddit Theories, & What the Documentary Left Out

Doug Stanhope on Comedy, His Mother, Libertarians, Alcoholics, and Trump

Camille Paglia: 'Universities Are an Absolute Wreck Right Now'

The Cruelty of the $15 Minimum Wage

How Drone Kills Happen: "Eye in The Sky" Film Dramatizes Techno-Moral Dilemma

George Will: Brace Yourself for the Authoritarian Moment

Edward Snowden Interview on Apple vs. FBI, Privacy, the NSA, and More

Recreational Pot Will Be Legal Just About Everywhere Soon

Adam Ruins Everything's Adam Conover on Skepticism, the TSA, and Cultural Myths

JUST PLAIN AWESOME

Gary Johnson Gets ANGRY Over Foreign Policy And Exclusion From Debates (You Will Too)!