A Quarter of Transgender People Report Restroom Confrontations
New poll gives insight in what has become a national debate.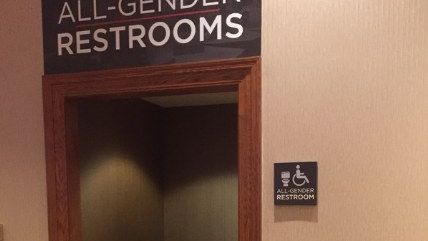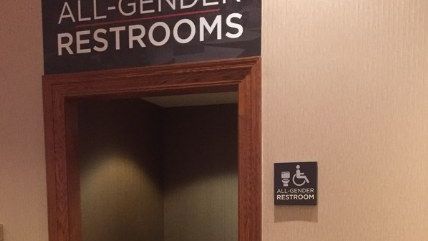 (Jennifer Walz / Dreamstime.com)
Public policy on how and where to accommodate transgender people ballooned into a national debate this year and may well have contributed to the defeat of incumbent North Carolina Republican Gov. Pat McCrory. McCrory put it all on the line defending HB2, the state law that both requires transgender people in public schools and government buildings to use the restrooms and facilities of the gender on their birth certificates and forbids cities within the state from passing their own accommodation regulations.
But this debate, while taking up plenty of media real estate and undoubtedly at least influencing some voting choices, has been notable for how much of it is based on emotion and fear and not facts and data.
The results of a new poll of transgender Americans put together by the National Center for Transgender Equality aims to give a better sense of what these people actually experience in the world. The survey of 27,715 was organized in 2015, greatly expanding on the 6,400 transgender people surveyed in 2011.
Since bathrooms seem to be the point of conflict at the moment, it's worth noting that 24 percent of transgender people say their presence in a restroom has been questioned or challenged in the last year and 12 percent say they were verbally harassed there. Outside the bathrooms, 46 percent say they were verbally harassed in the past year.
As for the rest of their lives, close to a third of transgender people said they've been homeless at some point of their lives and close to a third say they're currently living in poverty. A full 40 percent of transgender people say they've attempted suicide in their lives—seven percent say they've tried in just the past year.
But a comparison between the polling from 2011 and 2015 shows signs of improvement in some areas. The comparisons aren't perfect because the questions are a bit different. But in 2011, 26 percent reported losing their job because of being transgender. In 2015, and given a much larger sample size, only 13 percent reported losing their job. The number is cut in half. They didn't focus on just bathrooms in 2011 (because it hadn't become a thing yet), but 53 percent reported being harassed in areas of public accommodations then. That's still a larger percentage than the general harassment (46 percent) reported in the new poll.
But some issues—particularly mental health and family acceptance—haven't changed that much. The high rate of suicide attempts is unchanged, though logically it will take years for that number to shift if the poll is asking over a lifetime as opposed to the previous year. A higher percentage of transgender people (23 percent) report facing housing discrimination in the more recent poll than the older one (19 percent). Though again the questions aren't apples to apples. Another 11 percent in the previous poll also reported getting evicted because of their transgender identity.
The most recent poll results can be viewed here and the numbers from the 2011 poll are here.
What should the average (likely non-trans) libertarian or liberty-minded reader take away from this? Maybe a better sense of why there's such a push to use government regulations to fix some of these issues but also some knowledge that culture is showing signs of becoming friendlier to trans people even in just a short time frame.
It's important when attempting to make the argument that additional government intervention in business and private spaces isn't needed or justified—and brings about harm to individuals' right to freedom of association—to be able to show alternative ways that culture is getting better for transgender people. Though many of these numbers are improved, they are still remarkably high.
It's also a good reason why it's important to support transgender people's right to their self-identity vis-à-vis their relationship with the government. When both sides in this struggle are lumping private and government regulations together, it is really important to highlight and embrace reforms that will require the government to respect identity choices. Transgender people report terrible relationships with government authority figures like the police, prisons, and Transportation Security Administration (TSA). Transgender lives can be improved by reforming the way government treats them, and we'll be able to make a better case for not using fines and systems of punishments in the private sector to force culture shifts. As this election may well have shown, the result could be a backlash if people start believing that acceptance of others comes at the expense of their own personal liberties.