Airbnb Drops Lawsuit Against New York's Anti-Free-Speech Homesharing Law
Company abandons legal challenge after NYC promises not to bring enforcement actions against it. City says it will only target users.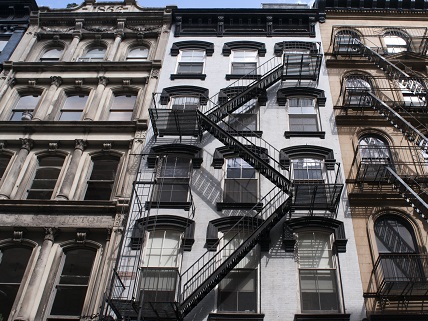 Short-term rental service Airbnb has pulled out of a lawsuit challenging New York City's ban on advertising such rentals online.
In exchange for getting the company to drop the lawsuit, New York City agreed that it would not use the enforcement mechanisms—including the threat of fines of up to $7,500 for each listing—to target Airbnb and would only enforce the law against individual users. Since its passage in October, the law has drawn criticism for being a potential violation of the First Amendment since it bans a certain form of speech.
"We look forward to using this as a basis to finding an approach that protects responsible New Yorkers while cracking down on illegal hotels that remove permanent housing off the market or create unsafe spaces," said Peter Schottenfels, a spokesman for Airbnb, in a statement to Reason.
With the lawsuit resolved, it would seem New York's anti-Airbnb advertising law will remain in place. Even if there are no other legal challenges to the law, it's still not clear what this means for New York residents who use Airbnb or similar room-sharing services. We'll know more on December 19, when the city plans to hold a public hearing to discuss enforcement of the law.
So far, the city has said it will focus enforcement efforts on people who are running illegal hotels—those who are buying up space for the sole purpose of renting it through online platforms like Airbnb—rather than sharing their space.
Renting out apartments for fewer than 30 days and running a hotel without getting the proper permits from the city government were already illegal in New York before the new law was passed. The big policy change is the ability of the city to impose fines on anyone who even advertises their space for a short-term rental.
"It provides the city with an additional tool to use against those seeking to turn permanent homes into illegal, short-term stay hotels," said Melissa Grace, a spokeswoman for Mayor Bill de Blasio, in a statement about the settlement. "The city will enforce this and other existing laws against bad actors."
In a parallel effort to shut down those so-called illegal hotels, Airbnb implemented a "One Host, One Home" policy in New York City that says the website's users can make only their own homes or apartments available for renting.
According internal Airbnb data that the company shared with Reason, 96 percent of entire-home hosts in New York City have just a single listing on the website, an indication that they are not running what the city would define as an illegal hotel.
In addition to targeting illegal hotels, the city originally justified the strict anti-Airbnb regulations by blaming the relatively new phenomenon of room-sharing for New York's decades-old affordable housing problems.
Airbnb's decision to drop the lawsuit does not make New York's short-term rental policy any better. The company got what it apparently wanted—a promise that it won't be held liable for violating the advertising ban—and hopefully the city will extend the same promise to law abiding residents who are offering their space for rent online. Still, there's no guarantee that will happen and, worse, other states and localities looking to restrict homesharing could be encouraged to copy New York's anti-free-speech policy.