Guess Who Just Approved a Pipeline to Transport Canadian Oilsands Crude?
Liberal Canadian Prime Minister Justin Trudeau, that's who. Does this make Obama look like a chump for nixing Keystone XL?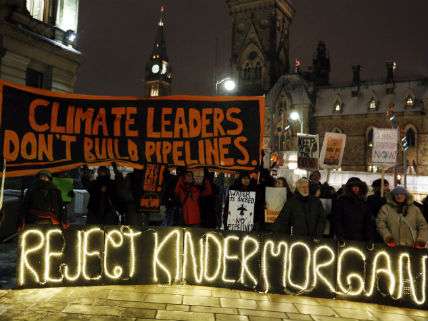 President Obama nixed the Keystone XL pipeline a year ago that would have transported nearly 900,000 barrels of crude oil from Alberta's oilsands regions to refineries on the Gulf Coast. Just in advance of the Paris climate change conference in 2015, President Obama found that the pipeline was not our country's national interest and declared, "The pipeline would not make a meaningful long-term contribution to our economy."
Well, another leader has decided that getting oilsands crude to foreign markets is in his country's national interest: Canadian Prime Minister Justin Trudeau. Consequently, his cabinet has approved the construction of the Kinder Morgan pipeline from Alberta that will transport about 900,000 barrels of oilsands crude per day to a port in British Columbia where it can be exported to whichever companies and countries wish to buy it. In addition, the Canadian cabinet approved the construction of the replacement for Line 3 pipeline that would transport 760,000 barrels oil from Alberta through northern Minnesota to Superior, Wisconsin.
CBC News reports:
"The decision we took today is the one that is in the best interests of Canada," Trudeau said in announcing his government's support for the two major projects. "It is a major win for Canadian workers, for Canadian families and the Canadian economy, now and into the future."
When President Obama rejected the Keystone XL project, environmental activists were ecstatic; the group 350.org released a statement praising the decision:
"President Obama is the first world leader to reject a project because of its effect on the climate. That gives him new stature as an environmental leader, and it eloquently confirms the five years and millions of hours of work that people of every kind put into this fight. We're still well aware that the next president could undo all this, but this is a day of celebration."
In response to Trudeau's decision, Aurore Fauret, campaign co-ordinator with 350.org had this to say:
Today's announcement may as well have said that Canada is pulling out of the Paris climate agreement. By approving the Kinder Morgan and Line 3 pipelines, there is no way Canada can meet those commitments. Justin Trudeau has broken his promises for real climate leadership, and broken his promise to respect the rights of indigenous peoples.
In the meantime, Republicans in Congress are calling on Donald Trump to reverse Obama's decision on the Keystone pipeline as soon as he takes office. Given the new outlets for Alberta crude, it may be too late for American workers, American families, and the American economy to "win" from the construction of the Keystone pipeline.
For more background, see my article: "The Man-Made Miracle of Oil from Sand."
Disclosure: Five years ago, my travel expenses to visit Alberta's oil sands were covered by the American Petroleum Institute. The API did not ask for nor does it have any editorial control over my reporting of this trip.