Obama Won't Pardon Snowden, Trump's Favorability Increasing, IRS Wants Names of Bitcoin Users: P.M. Links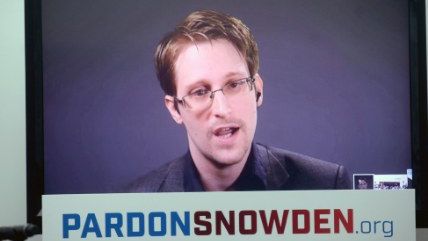 (Dennis Van Tine/UPI/Newscom)
Dennis Van TIne/UPI/Newscom

President Barack Obama says he can't pardon Edward Snowden, but it's probably more likely that he won't pardon him.

Now that the election's over, President-Elect Donald Trump's favorability ratings are slowly ticking back upwards. He's still below 50 percent, though.
Kris Kobach, Kansas' secretary of state and possible Trump pick for his cabinet, brought his written plans for national security to a meeting with Trump. A photographer managed to capture some of the info in a picture.
The #CalExit folks (those who want to have California secede from the union) are starting to push a new ballot initiative, hoping to get more support in the wake of Trump's election. They are apparently still unaware that several inland counties within California went for Trump.
Democrats in North Carolina are calling on Republican Gov. Pat McCrory to concede the election. He trails Democratic challenger and state Attorney General Roy Cooper by 6,600 votes currently.
The IRS is looking to force Coinbase to provide a list of customers who engaged in virtual currency (like bitcoin) transactions to find those who might be skirting the tax code.
Workers at Chicago's O'Hare airport voted to strike starting Nov. 29. They want $15-an-hour wages.
Democratic Hawaiian Rep. Tulsi Gabbard (a supporter of Bernie Sanders) broke ranks to meet with Trump today. She put out a statement saying they discussed her concerns about military escalation in Syria and desire to end our involvement in that country. Of additional interest (particularly where the Trump administration is concerned): She's a member of the Fourth Amendment Caucus that formed earlier in the year to try to rein in government surveillance.
Follow us on Facebook and Twitter, and don't forget to sign up for Reason's daily updates for more content.