Bernie Sanders Got Nearly 6 Percent of the Vote in Vermont, Even Though He Wasn't Running
And other strange tales of the 2016 results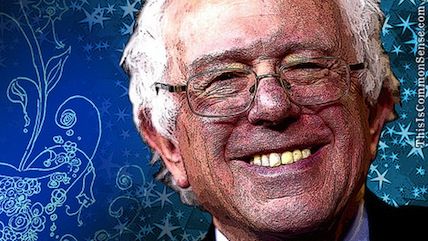 (James Gill/ThisIsCommonSense.com)
How much dissatisfaction was there with the major parties' presidential candidates this year? Enough that we're likely to hit a popular-vote milestone not seen since 1980 and an electoral-vote milestone not seen since the 19th century. Enough that in one state, someone who wasn't even on the ballot collected nearly 6 percent of the vote: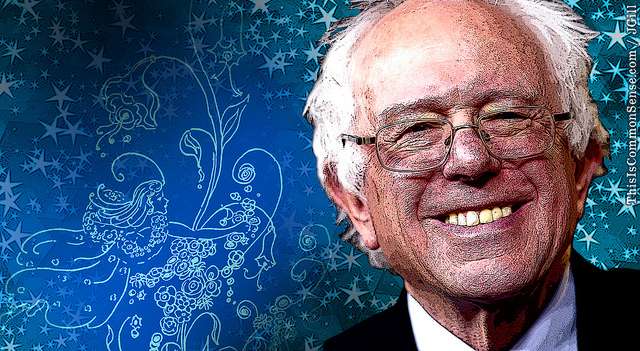 • Bernie Sanders finished third in Vermont, with 5.68 percent, even though he wasn't running. All sorts of non-candidates picked up write-in votes in Vermont, including seven ballots for Willie Nelson, one for Louis CK, one for Richard Nixon, and one for "R. Paul." (Rand, Ron, and Ru can fight it out for that one.) Either two or three ballots were cast for God, depending on whether you include the vote for Jesus; I'll let the theologians debate that one in the comments.
But the big write-in success was Vermont senator and former Hillary Clinton challenger Bernie Sanders, who got 18,218 votes—18,219 if you count the person who wrote in both Sanders and Joe Biden. That's 5.68 percent of the state's total, more than either Gary Johnson of the Libertarian Party (3.14 percent) or Jill Stein of the Greens (2.11 percent). Sanders, you'll recall, ceased to be a candidate before the Democratic convention and spent much of the fall campaigning for Clinton.
• Jill Stein has now surpassed 1 percent of the national total. When I last posted about the third-party results, Stein had .96 percent of the national total. Since then her tally has risen to 1.02 percent. If that holds, two third-party candidates will have surpassed 1 percent this year. (The other is Johnson, whose share now stands at 3.28 percent.)
That may not sound significant, but it is exceptionally rare. The last election where two different alternative tickets managed to do that well was way back in 1980, and the last one before that was in 1948. To find a third example you need to go all the way to 1916.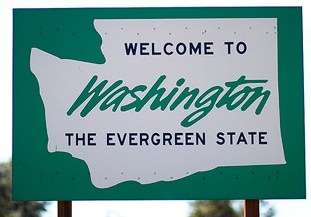 • Chances are high that one or more alternative candidate—or non-candidate—will show up in the Electoral College totals too. Before Election Day, a Democratic elector in Washington declared that he would not vote for Hillary Clinton even if she carried the state. Another elector in the same state was publicly mulling a similar protest. There was a lot of debate about whether they would actually stick with such a plan if it meant handing the election to Trump.
Well, that debate is now moot: Trump appears set to carry the Electoral College no matter what the Washington delegation does. And the Democratic slate did win Washington. So there's a strong chance that we'll see two Democratic electors defect to Sanders, Stein, or someone else. (There is also at least a small chance that one or more Trump electors will refuse to vote for the Republican nominee.)
It isn't unusual for a solitary elector to break with the pack this way. That's happened in six of the last 12 elections. But it's extremely unusual for more than one member of the same Electoral College to vote for a presidential candidate other than the one they're pledged to support. That hasn't happened since the 19th century.
• Who finished last? Enough with the alternative candidates who did unusually well. Who did really, really poorly?
Strictly speaking, last place is a vast tie between a bunch of write-ins. But limiting ourselves to the candidates who actually appeared on the ballot, the person presently bringing up the rear is Frank Atwood of the Approval Voting Party, whose platform holds that you should be able to vote for as many different candidates as you like. According to the U.S. Election Atlas, Atwood currently has just 335 votes. Atwood himself might not be among them: Last October he told the Littleton Independent that he "will most likely be voting for Gary Johnson."